Details

By

Beth Randles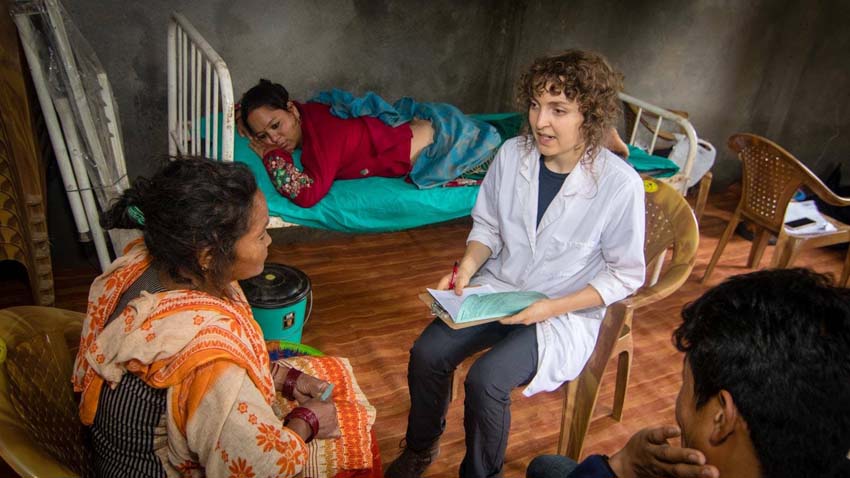 Cricket highlights are buzzing in my left ear, as I peel apart crinkling, plastic sleeves of a wedding album. My patient's fourteen-year-old son splits his attention between the static screen and his sister's wedding photos, dutifully providing me with descriptions of each face's relation to the family.
"Mother's big sister's husband."
"New husband's mother's big mother."
Overhead, two occupied bird's nests are harmoniously integrated into the wooden beams and cool clay of this traditional Newari home. An ornately carved shutter is open, shedding warm sunlight on my lap to compliment the sticky-sweet, masala tea in my hand. I am beginning to feel more healed than healer, the boundaries dissolving between myself, the soft, fleece couch cover beneath me, and the mother and son flanking my sides.
My patient's charm is contagious. A muscular woman in pink who doesn't rise past my breast, she pulled me in from the street, scythe in hand. She is beaming at her doctor's compliments of her daughter's beauty, which are completely sincere. The twenty-two year old bride's smile outcompetes a heavy red tika, layers of bright cloth, and grass, glass, and metallic adornments. Her son tells me she lives in Baltimore, and I am excited to convey that I share a coast with his sister, as we three sit atop each other on the small couch.
I hear heavy footsteps below, and quite suddenly the television's light is extinguished and the photo album stowed away. I greet my patient's husband, "Namaste", and receive a stoic acknowledgement. My patient is bringing her fingers to her mouth, offering me to join their morning meal. Feeling as though a storm has moved in, I enthusiastically thank them and take my leave. My thoughts wander to the metronome of my footsteps… is my patient seeking relief for more than her inflamed elbow?