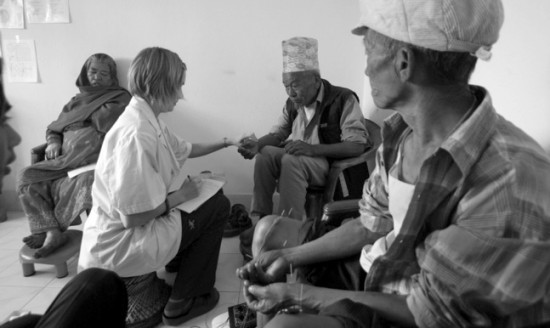 Volunteer practitioners are the heart and soul of our small project. In the last two years we have had the distinct pleasure of working with 14 acupuncturists hailing from several Oriental medicine schools in the United States and Canada. Through our combined efforts we have provided over 15,000 acupuncture and herbal medicine treatments to nearly 3000 of the poorest people in the world. Our volunteer's dedication to overcoming the hardships of living and working in the small third-world country of Nepal is not only admirable but also rather extraordinary. Not only do they set aside their own families and daily comforts to endure the rigorous workload, they also have to look after their own health and learn all they can about this impoverished country and its people. They have alleviated pain, helped stroke patients learn to walk, managed widespread outbreaks of the flu, cured diarrhea, and reduced asthma. They have cared for infants, adults and the dying. In short, they have extended a hand of kindness and compassion in a way that few people will ever know.
We are sincerely grateful for their service.
In 2010, Acupuncture Relief Project will again staff the Vajra Varahi Clinic in Chapagaon, Nepal and is now seeking applications from qualified acupuncture practitioners, naturopathic physicians, chiropractors and other medical professionals. We will be conducting three clinic camps from September 2010 to March 2011. Each camp will last seven weeks and be limited to four practitioners. We are also accepting applications from practitioners who would like to serve in Nepal other times during the year.
If you would like to be considered for the 2010/11 project, please download and submit our application by June 15th, 2010. Applications received after this date will be reviewed on a first come first served basis.
As Oriental medicine practitioners, we assure you an insightful experience and an opportunity to perfect and learn new skills while witnessing the transformative power of your medicine. More importantly you will be serving a community that desperately needs your support.
Please click here to download our application packet or contact me for more information.
I'm very excited about offering this opportunity and I hope that we will be working together in Nepal. -Andrew