December in the Kathmandu valley, the nights are cold and days are hot. The mid day sun is deceptive in its warmth and leads you to believe that after sitting in it on your lunch break, you will then be warm the rest of the day and night. This is not true, you can not believe the sun's whispered promises. While you may sweat over your plate of lunch, it is cold back in the treatment rooms where the windows let in too little light. The warmth has to come from within, somewhere. I learned quite specifically where the warmth of compassion lay in my chest and how digestive fire warms the body. If you eat too little, you will not only be hungry but also cold. The day I wore less than two pairs of pants was cause for celebration.
Fortunately, the heat of my compassion and the heat of my digestion took turns being there for me. This is my new personal definition of internal strength. Whether from inside or outside, somehow or other I always got what I needed to get through the day.
It is somewhat to be expected to have a hard time adjusting to a new climate, new food, air and water. Though I had been traveling several places in Asia before I arrived in Nepal, this was still true for me. I thought that maybe it would be a bit better since my body was used to adjusting several times a year. But the chaos of Nepal is different from the chaos of China. The spiciness of Nepali chillis is different from the spiciness of Korean red pepper paste. The rickshaws are more full than in Thailand. In short, nothing could have prepared me for the kind of ill I got. It was the kind of ill that makes your stomach shrink and your nose shrivel at the thought of food. If I ate anything close to a normal or regular amount, I would start to feel ill between four and six hours later. This was especially true at night.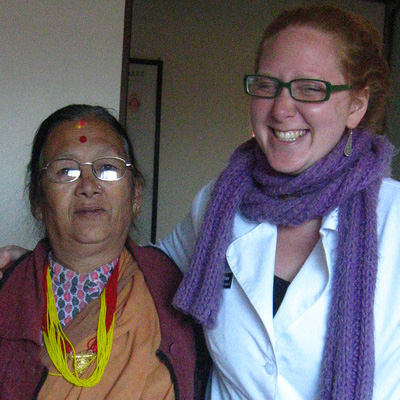 One morning before Christmas, both the other practitioner and I woke up ill. I had been up all night tormented by my insides and she had gotten nauseous after eating breakfast. It was just the two of us in the clinic at that time, so we did the best we could to make it through the morning. At lunch we slept in the sun on the roof. I tried to will its warmth in through my belly button. When lunch time was thoroughly over our interpreters asked if we would be able to treat any more. The other acupuncturist issued a hushed grunt in refusal. I commanded my legs to crawl down the stairs to the lower portion of the roof where Ramita, one of the clinic staff suggested that I treat right there, in the sun. This meant two fewer flights of stairs, thrilling. The interpreters carried needles, disposal containers, cotton swabs and chairs upstairs and guided the confused lot of patients to sit on the roof. Meanwhile, Ramita called her mother to ask advice. Her mother was convinced that we had been 'witched' by a local villager on our walk the previous day with Satyamohan, another interpreter. Satyamohan was convinced that he had taken us too far on our walk and somehow the exercise had caused us to fall ill. Pradjil was convinced we must have eaten chicken that had been sitting unrefrigerated at the butchers for several days. I was happy they were trying their hand at diagnosis. Not having any direct remedy for too much exercise or salmonella, Ramita asked if she could try a 'de-witching'. I was game for pretty much anything at that point and had been wanting to see some Nepali shamanic medicine anyhow.
One handful of water and one handful of rice came from the kitchen. Patients looking on, water sprinkled on the bench, I sat down in the tiny blessed droplets. I wasn't happy to have my pants wet, but it wasn't any worse than anything else going on. The rice was split into two sections, and my body was traced three times on each side. My skin tingled and my scalp itched when she plucked a hair from my head. Words muttered and my ailments were tossed off the roof into the courtyard of the monastery. If that didn't do it, nothing was going to. A few breaths later I stood up and treated the remaining ten patients or so for the day.
Maybe it was being taken care of, or maybe it was the sun, or maybe it was the rice magic but I felt better. Maybe if I had believed more, the stomach trouble wouldn't have come back the next night. But for the meantime, the patients were treated and my stomach was settled. Again, by medicine or miracle I had got what I needed to get through. –Ali