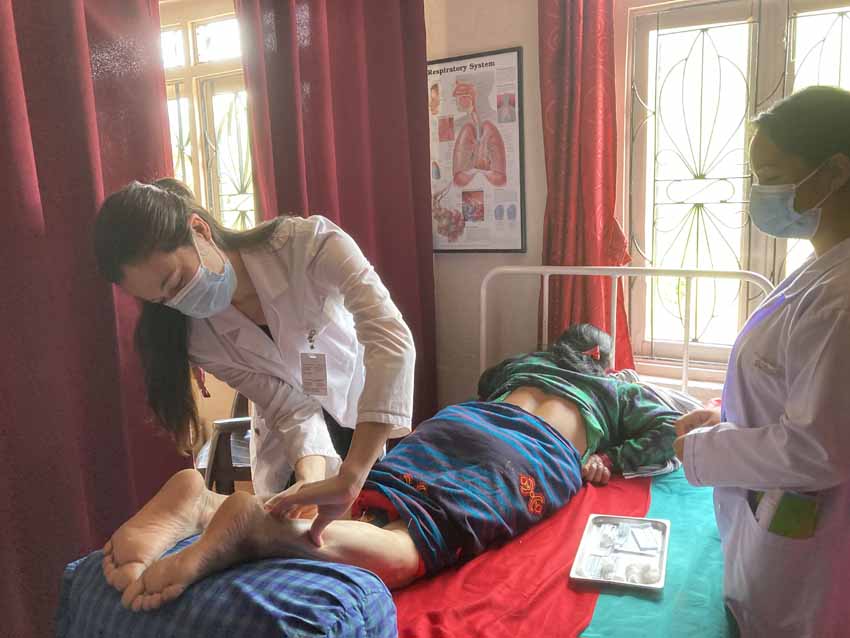 The morning sun glitters through the windows and my rhododendron plant stretches its leaves up to reach the light. I put on the kettle and sit down to eat my oatmeal with banana and soymilk, a breakfast poles apart compared to the roti with potato and chickpea curry I'd become accustomed to in Nepal. My city here in Victoria, Canada is famous for its rhododendrons, but the 100-year old plants look like babies in comparison to the rhododendron forests I have just witnessed while trekking through the Annapurna region; truth be told the plants are so bountiful that the local Nepalese verily use them for firewood to supply their wood-burning stoves.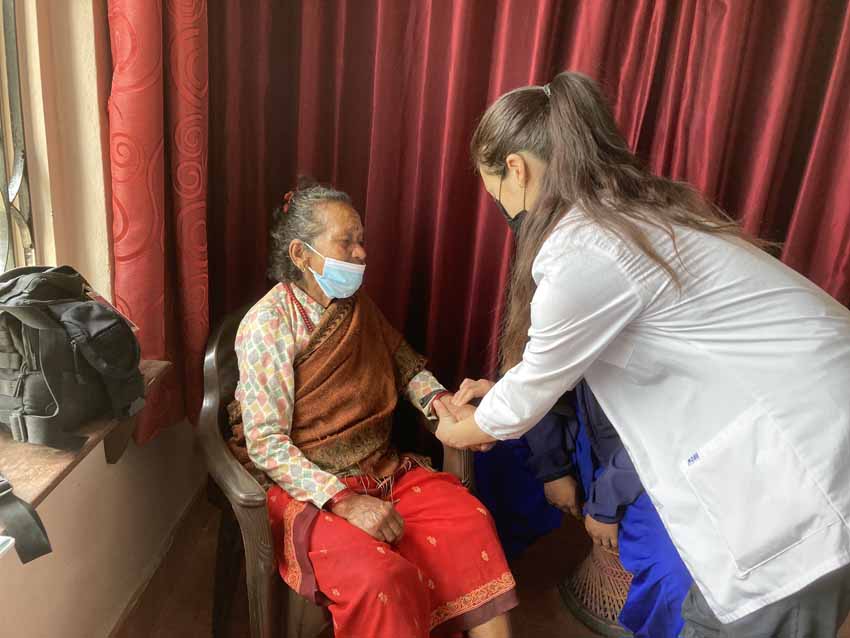 I ended my volunteering experience in the village of Bajrabarahi, Nepal with the Acupuncture Relief Project only four weeks ago now, yet the atmosphere, pace and the patients' faces are still etched in my memory. I have been reflecting on my time in Bajra since returning to Canada and the difference in practitioner-patient dynamics compared to what I typically encounter here in the West. I was fortunate to travel to Nepal and volunteer alongside my husband Gavin, who is also a Registered Acupuncturist and Traditional Chinese Medicine Practitioner. It was his first visit to Nepal and sharing the work-day with him and the exceptional Nepali practitioners Satyamohan Dangol and Sushila Gurung, intern Sanita Gopali and interpreters and clinic staff Amrita Gopali and Sushila Waiba, was truly a dream-team manifest. Returning to Nepal, for me, after eleven years away from a country where I spent four years of my creative years from age twenty-four to twenty-seven immersed in a BA program in Tibetan Buddhism at Kathmandu University was strangely familiar, yet this time entirely new.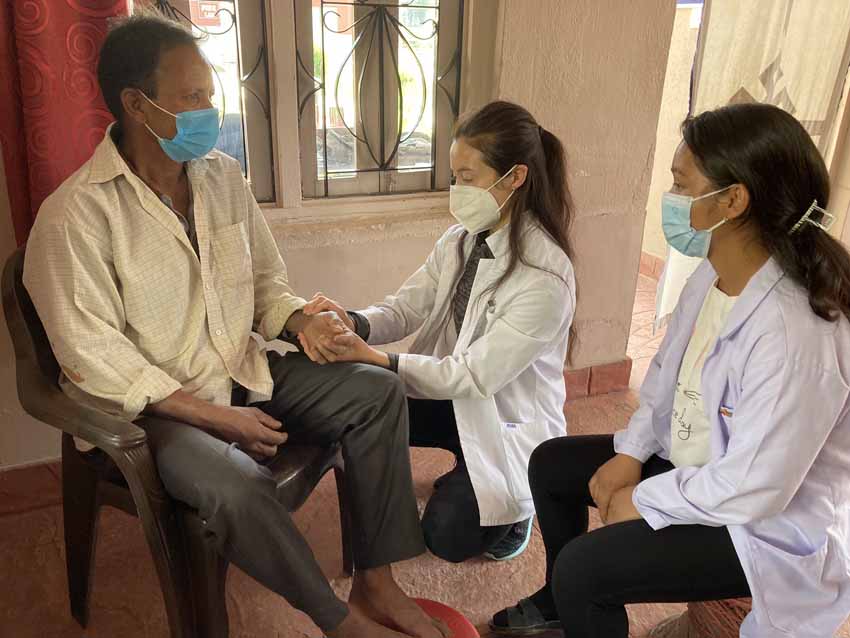 Something that stands out to me about the patients in Nepal is their enormous amount of trust and receptivity to treatment. Every morning when Gavin and I walked down the steps in preparation to enter the clinic space, patients would immediately acknowledge us and signal namaste. Many came early, a few even habitually arrived two hours before the clinic opened. Everyone was so very ready to receive. One regular grandpa always arrived with candies for the clinic staff and multiple patients who were farmers offered up cauliflower or cabbage as a 'thank you' for treatments.

Due to my limited time in Nepal, I wished to treat everyone as much as possible and told patients to return in two to three days or even the next day. Ninety-five percent adhered to this recommendation which was honestly an acupuncturist's dream, since our treatments build upon each other and are more effective when patients come back frequently with short gaps between treatments. Due to this confidence and regularity, I was able to prescribe, monitor and modify herbal medicine doses very effectively to optimize them for patients in less than a week. I knew that I would be treating the same person three times per week and could tailor my treatments constructively so each would be unique yet complementary.

Here in Canada, it is rare for patients to come twice per week, as they cannot fathom making that much space in their busy schedules for acupuncture. Perhaps this habitual resistance to receiving stems from societal pressure to overwork—that we are worthy when we are productive and only once we have produced are we allowed to take a break. Or perchance in the Western world we are used to filling not just our schedules but our minds as well with moving lists, plans and bustle; and to take a deliberate pause in our day to receive needles feels terrifying since we will be literally pinned down and forced to sit with and confront ourselves.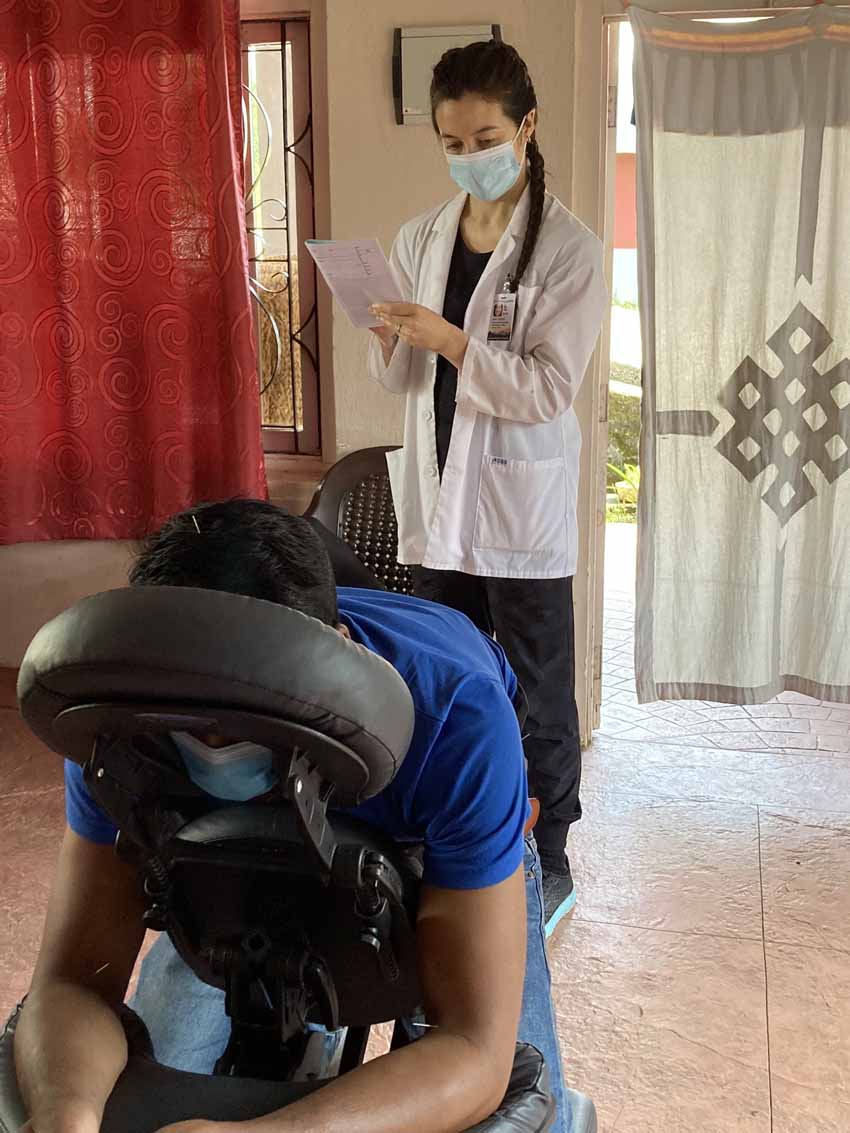 Being both a Doctor of Chinese Medicine and a yoga teacher of seventeen years, I personally notice that folks are afraid to look within, since culturally we are mostly trained to focus on outer stimuli, to endlessly distract our minds, and to numb out and disassociate from feeling anything. Our emotions—all our anxiety, pain, fear, doubt, and suffering—sit on the back burner until they either bubble up and explode outwards or weigh us down with inertia and depression. Often patients are used to identifying with a sick sense of self and cannot imagine a reality where they are not ridden with some kind of chronic condition. And maybe it is challenging to commit to a slower and holistic modality like acupuncture that addresses the root causes of our illness when we are used to the promise of quick results and more immediate effects of Western medication.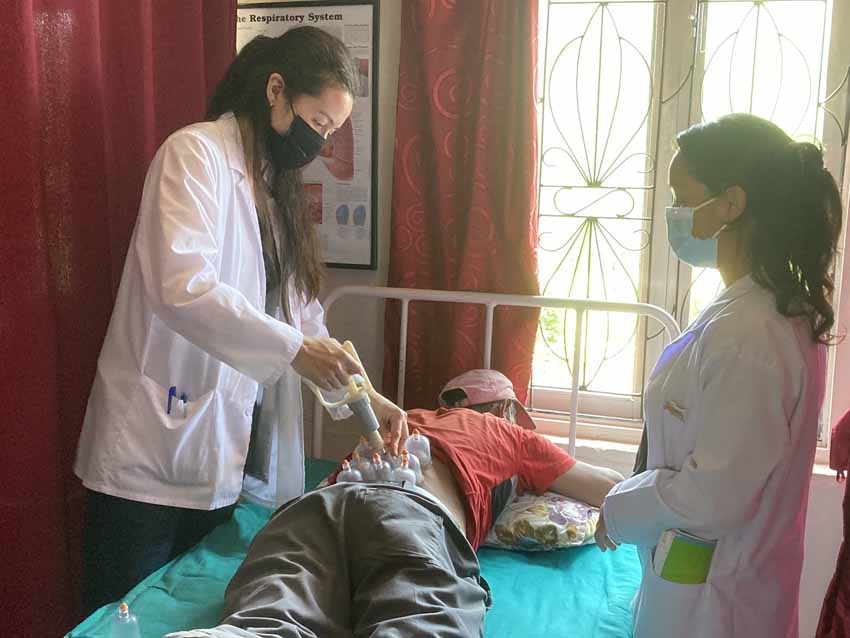 I certainly felt a level of respect for all the Nepalese who showed up to meet me and themselves again and again so readily. Sure, some were desperate, but most were just thankful to have an opportunity to receive and that itself was deeply touching. To get into detail regarding specific patient cases, it was eye-opening to have the opportunity to treat conditions I would not typically see here in Canada, such as goiter, diabetes, and acute asthma, and to work with post-stroke rehabilitation patients who have been returning to receive acupuncture at the clinic since its inception in 2008 due to excellent results.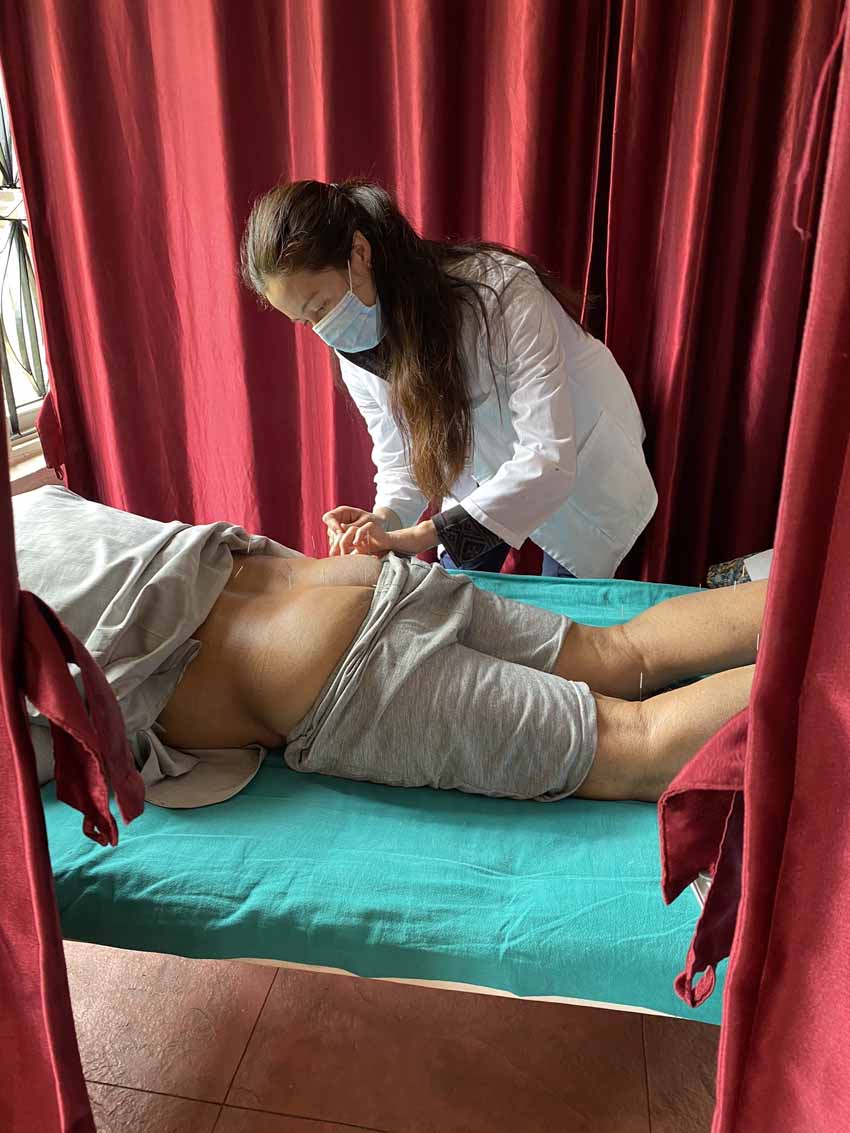 The Bajrabarahi Clinic in the Makwanpur district is an integrated medicine clinic and training center for students studying acupuncture and rural health at the Rural Health Education and Service Center (RHESC). As such, it was an inspirational model to work within, since conducting an initial intake included taking a patient's blood pressure, blood glucose levels, pulse rate, and temperature as well as traditional Chinese tongue and pulse diagnosis. The clinic is remarkably well set up and stocked with Chinese herbs, acupuncture needles, cups, gua sha and moxibustion in addition to Western medication and diagnostic equipment. Referrals to both the neighbouring health post and outlying hospitals in Palung and Kathmandu an integral part of a clinic day.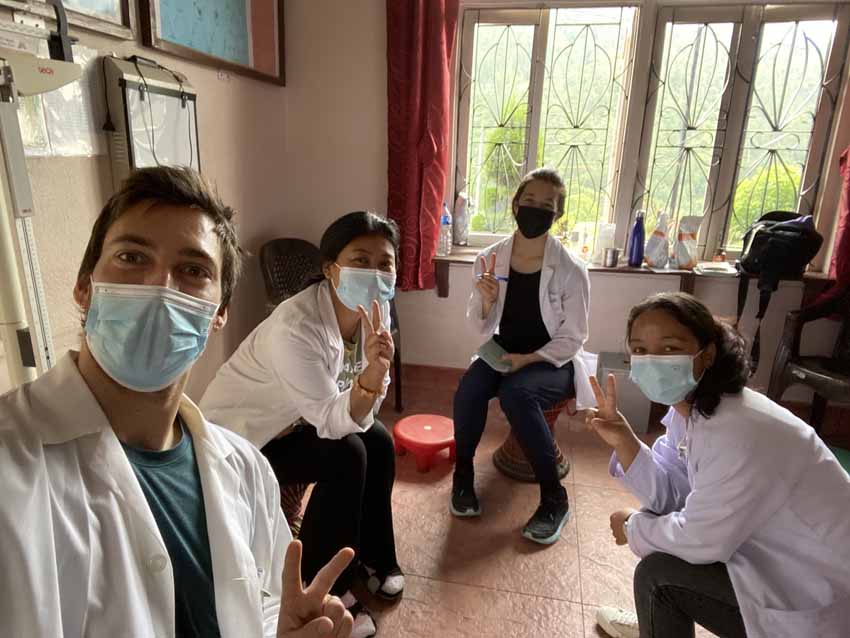 Due to the clinic's location, a three-hour drive south west of Kathmandu, many patients in the district of Bajrabarahi and surrounding villages are subsistence farmers that carry fifty to sixty kilogram loads in woven baskets called doko on their backs supported by shoulder and forehead straps called namlo. I witnessed senior women older than myself carrying loads I would personally find extremely heavy, and I have not yet reached fourty years of age myself. During my stay, farmers were hustling to harvest potatoes before the monsoon rain spoiled them, and beginning to plant rice in the same terraced fields. Their work involved laborious digging, bending, squatting and carrying heavy loads. Everyday in the clinic, Gavin and I were guaranteed to treat regular orthopedic patients who found acupuncture quite helpful in relieving their chronic knee and low back pain. I applied a considerable amount of electro-stimulation acupuncture on patient's glutes and thighs, and needled the liáo 髎 points in the sacrum foramen more consistently than I ever have before in this line of work.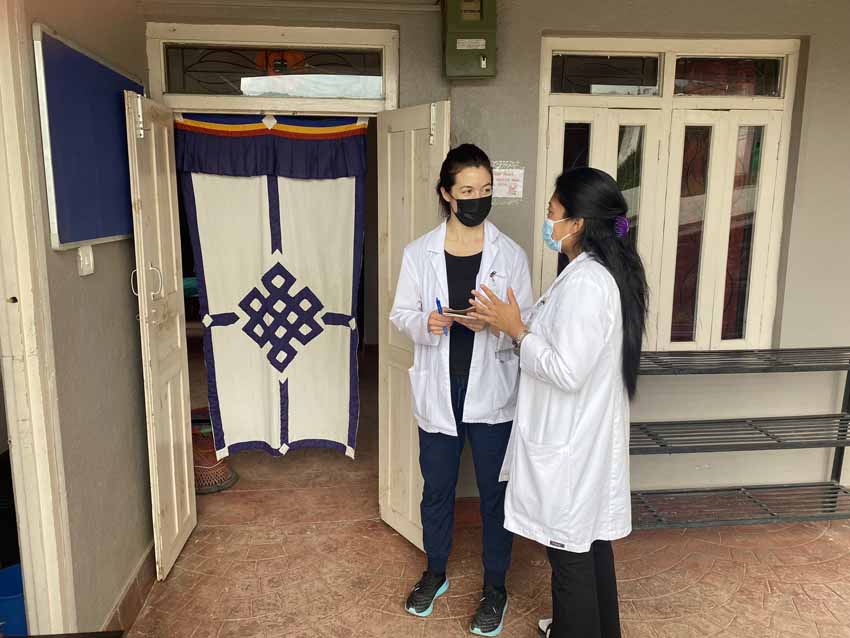 In my three week block at the Bajrabarahi clinic, I treated several cases of uterine prolapse, post-stroke rehabilitation patients, drum distention, sciatica, lymphomas, urinary tract infections, headache and tinnitus, acid reflux, epigastric pain, diarrhea and constipation, mild to severe asthma, diabetes, and numerous high blood pressure patients. It was extremely common to witness elderly patients with classic Chinese Medicine "yīn deficiency heat" symptoms manifesting as burning in the soles of their feet and lower body, for which acupuncture points like Kidney-1, Yǒng Quán 涌泉 and Kidney-2, Rán Gǔ 然谷 situated on the feet were especially useful.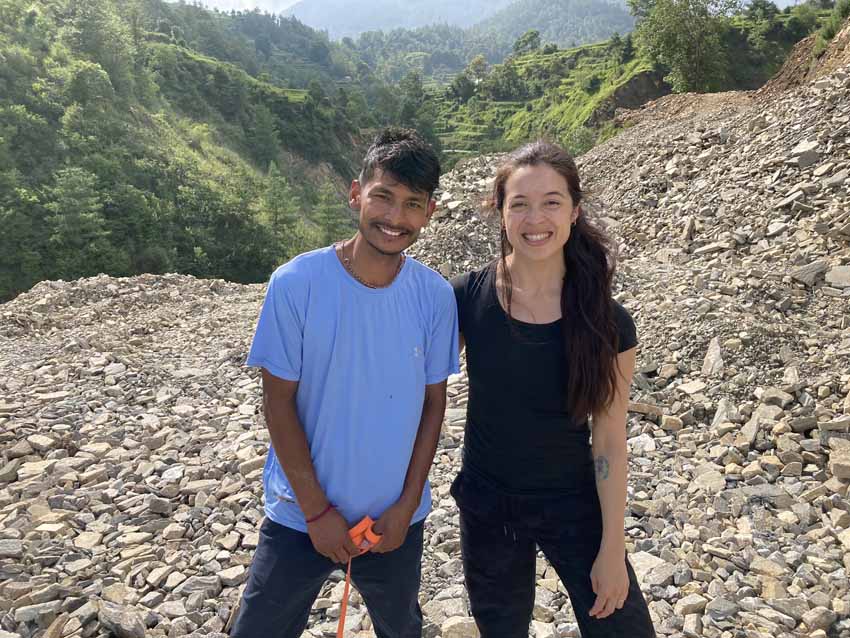 I was pleasantly to surprised to see how equipped the herbal dispensary was considering the remote nature of the clinic, and was privileged to prescribe many classic Chinese herbal formulas like Píng Chuǎn Wán平喘丸 which clears heat, dispels wind-cold, transforms phlegm, and diffuses the Lung to treat asthma, difficulty breathing, chest constriction, cough and emphysema; Huò Xiāng Zhèng Qì Sǎn 藿香正气散, which harmonizes the stomach and transforms dampness to treat nausea, abdominal pain, chest fullness, diarrhea and headache; Táo Hóng Sì Wù Tāng 桃红四物汤 which nourishes and circulates blood to treat abdominal and menstrual pain; Dú Huó Jì Shēng Tāng 独活寄生汤 which expels wind-dampness, tonifies deficiency and disperses painful obstruction to treat low back and knee stiffness, pain, and arthritis; Bǔ Zhōng Yì Qì Tāng 补中益气汤 which tonifies and raises qì to treat uterine or anal prolapse, diarrhea, dysentery, spontaneous sweating and bodily exhaustion and Nǚ Kē Bā Zhēn Wán 女科八珍丸 which replenishes qì and blood to treat sallow complexion, anorexia, lack of strength, fatigue, dizziness, anemia and irregular menstruation.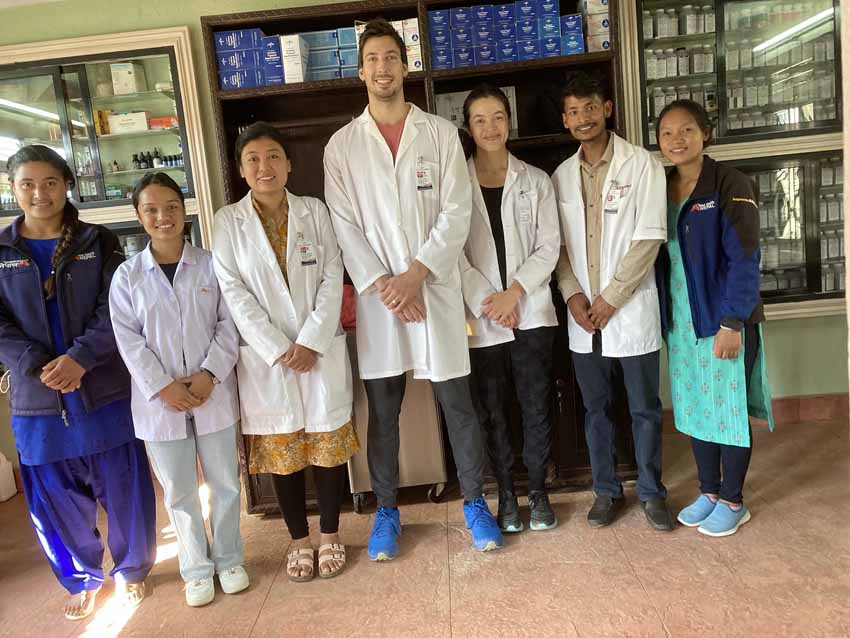 The clinic also boasts several topically remedies like Demon Strength Battle Balm which contains pain-relieving Chinese herbs including safflower, frankincense, myrrh, sappan wood, angelica sinensis root, corydalis, and notoginseng and chili patches that patients could take home and apply to warm a body area and relieve pain.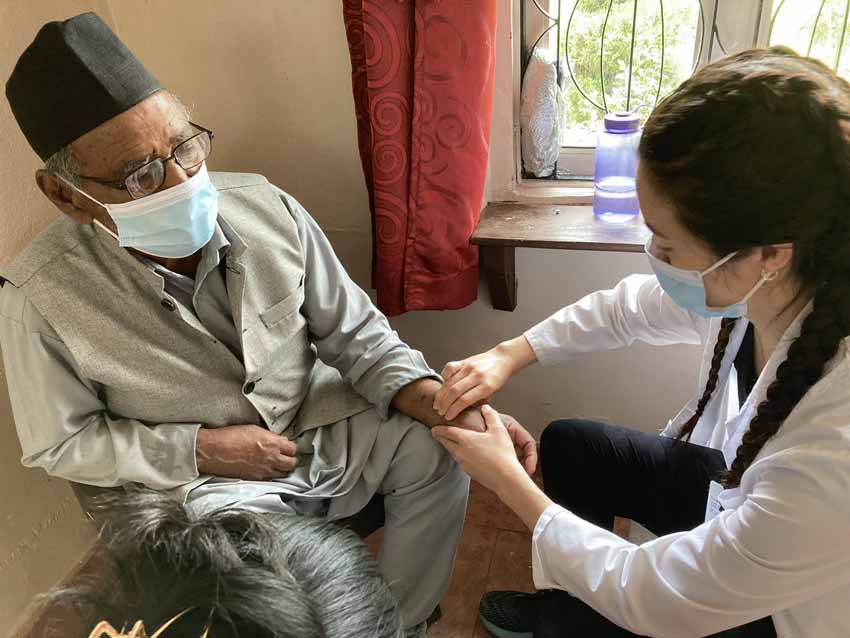 The workday schedule was six days on, one day off, Monday-Saturday, 8:30am-4pm, during which we would treat up to twenty or more patients each/day in a community acupuncture style setting with some patients seated in chairs and others lying down on the five beds. This was considered a slow-time of year and we were informed by both Satya and Sushila that sometimes they see 20 patients each in a morning alone! During our stay we had several extra days off due to local rural municipality and district elections wherein the socialist democratic party Nepali Congress came out on top, and Buddha Jayanti, which commemorates the birth, enlightenment and death of the Buddha in the month of May. We spent our free time exploring neighbouring Newari and Tamanag villages and hiking up hills and across fields of vegetables to viewpoints overlooking the valley as well as becoming rather obsessed with the Russian card game Durak. Washing our own laundry by hand in a bucket and surviving without toilet paper or kleenex for three weeks forced us out of our comfort zone and reminded me of why I love traveling for that exact purpose. I am immensely thankful to all the clinic staff for their friendliness and consideration in planning ventures for us and making us feel like we had a second home in Nepal. I highly recommend anyone who is considering volunteering with the Acupuncture Relief Project not to hesitate, but to book your flight to Nepal and know that you will return with upgraded skills and a heart full of gladness. I know I am, and in fact I am already planning my next trip.
Dr. Agni Larsen, Doctor of Traditional Chinese Medicine, Victoria, Canada