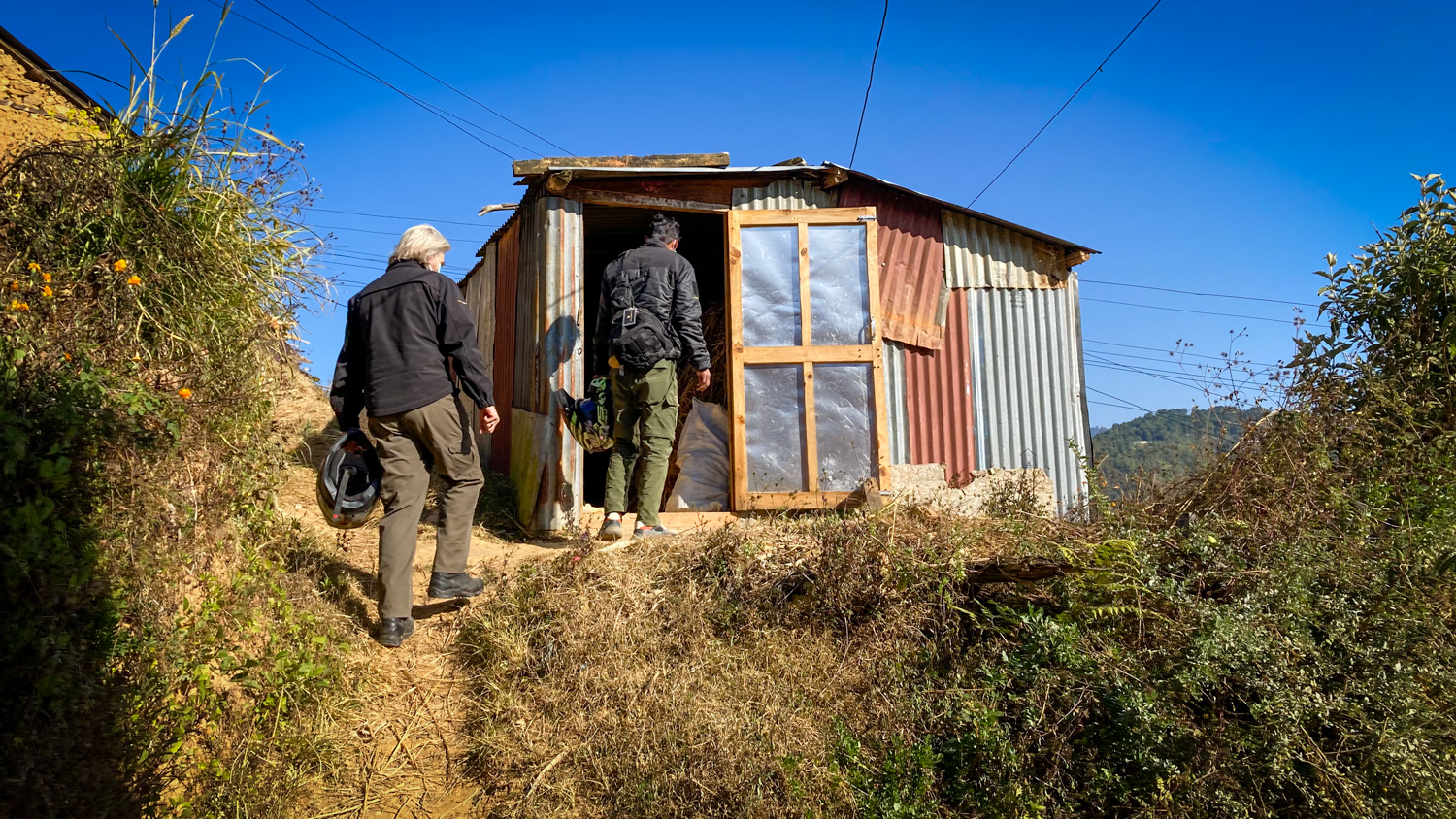 Ramkrishna's eyes brightened with recognition as we entered. His room… a small tin shed. A collage of colors and rust patinas cover every surface of the salvaged corrugated metal. Six feet wide and ten feet long, the self-standing structure features one small window which casts a blade of bright light across Ramkrishna's face. He shares the space with dried corn, broken farming tools and a stack of dried rice sheaves which serves as feed for livestock. A rough pile of filthy blankets outline a sleeping area on the concrete floor. A small well-used tea kettle sits on a ring of partially charred sticks. The remnants of this morning's cooking fire.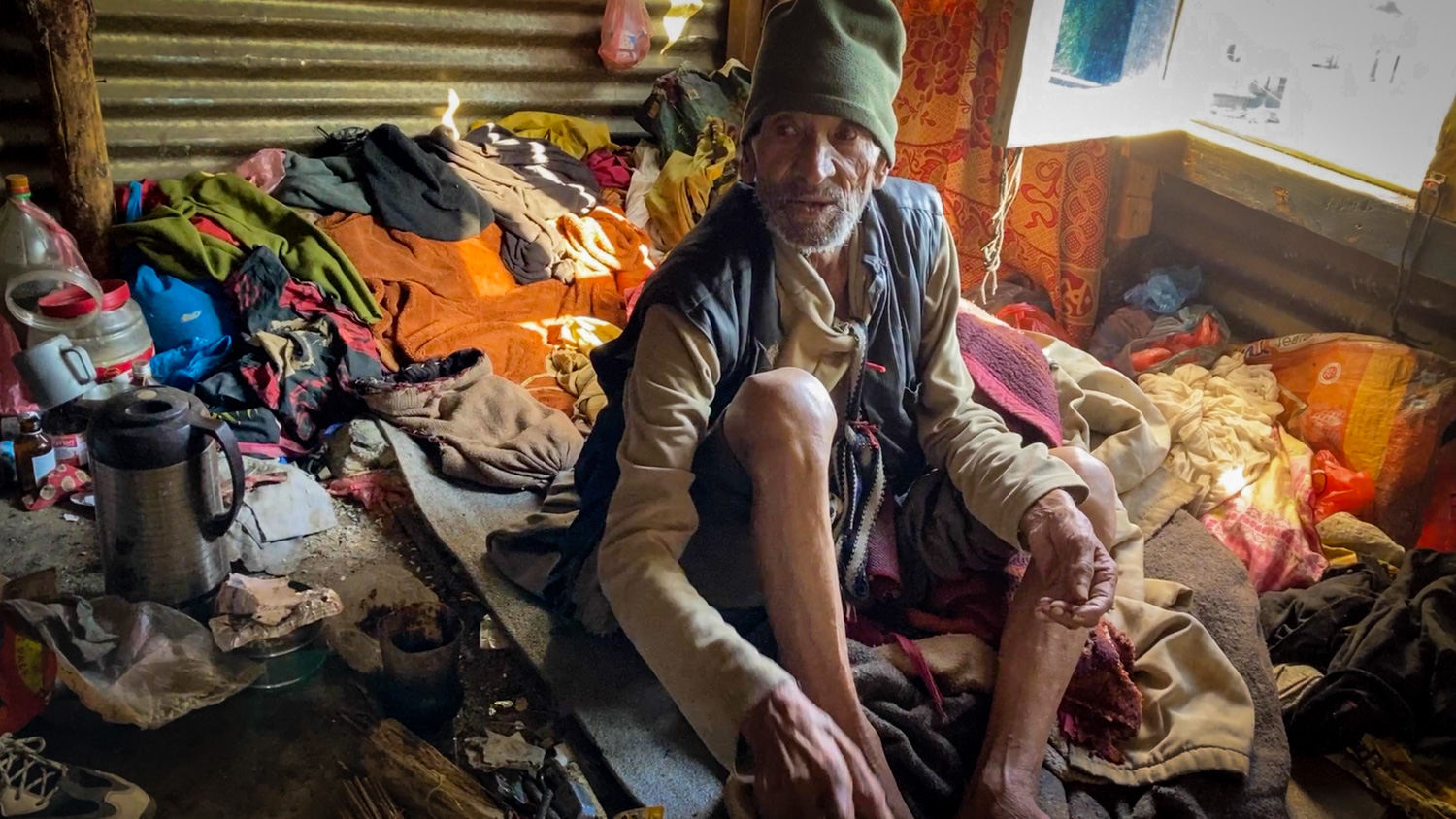 Ramkrishna December 2021, Thaha, Makwanpur, Nepal
Ramkrishna speaks breathlessly with an ominous gurgling in his chest.
We have never been quite sure what to make of Ramkrishna. A patient of our clinic in Bajrabarahi Nepal for many years, he is a notorious character in the village. A bit of a vagabond, he is often encountered begging for money or selling trinkets. His adventures take him from one end of the valley to the other and sometimes as far away as Kathmandu. Other patients would tell us that "he has a house" but we would see him coming from every different direction to the clinic.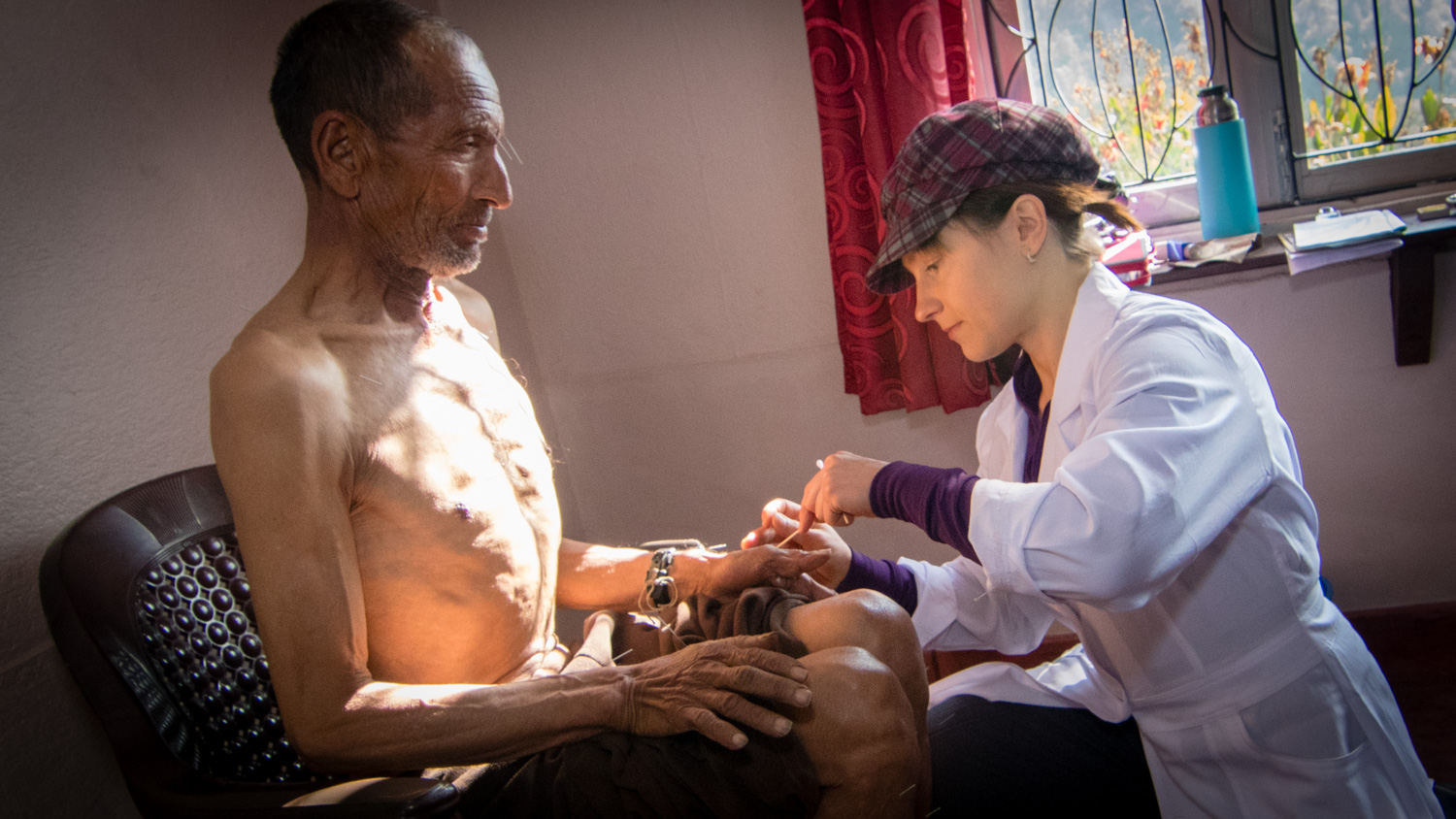 Ramkrishna 2018, Bajrabarahi Clinic, Thaha, Makwanpur, Nepal
Dressed in a tattered daura-suruwal, the traditional dress of Nepali men, he would march proudly into our clinic on a regular basis. Stripping to the waist and bearing his chest even on the coldest days, launching into a torrent of complaints, he often was overwhelming and confusing to our volunteer practitioners. Somewhere north of his mid-seventies, Ramkrishna has advanced obstructive pulmonary disease and an inguinal hernia about the size of a small orange. He proclaims to everyone in earshot… that is to say everyone inside and outside of our clinic, "This clinic is the ONLY thing that has kept me alive".
Yesterday, while sitting down for dinner and discussing the patient cases of the day, it was mentioned that no one had seen Ramkrishna for over three weeks. Being mid-winter and with the specter of COVID-19 looming, we decided that we needed to do a home visit the next day. First we need to find his home. Try to keep in mind that no one has an "address" in Nepal. There are no house numbers or street names to go by or reference. Fortunately, though our valley spans about fifteen square miles, there are only three main roads. 
Employing the miracle of the mobile phone and a loose network of village social workers and other patients, we triangulate his location and set out on our motorbikes. We wind our way through the village and up the steep hills along rocky, unpaved single lane roads. As we pass many of the villagers wave and greet us with a "Namaste", hands in a prayer position in front of their face.  Though it is time and resource intensive, home visits are my favorite thing to do and something that our clinic is well known for. If you are a patient of our clinic, we try to keep tabs on you and your family. Our guerrilla network helps keep us abreast of imminent needs in the community.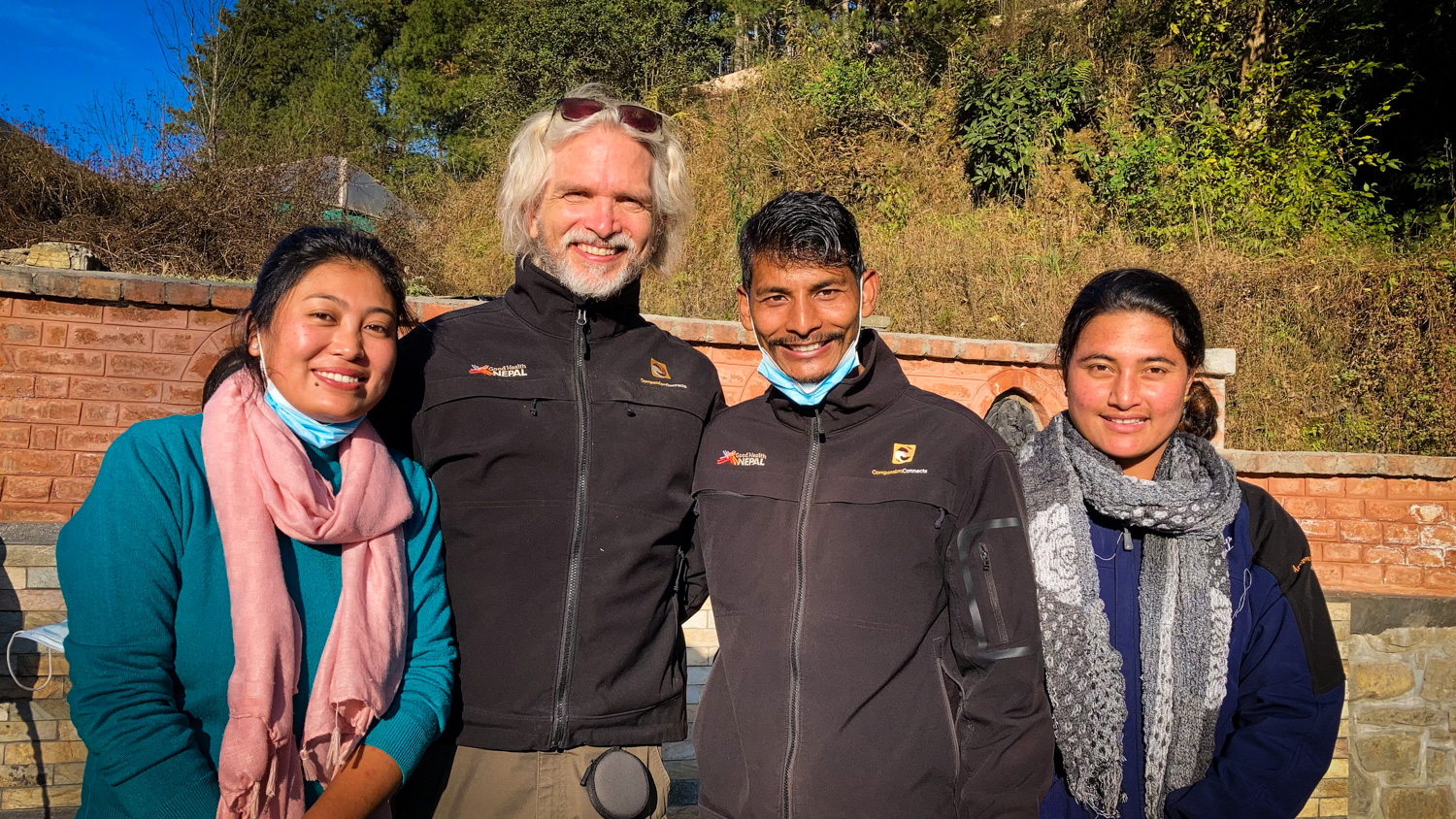 Bajrabarahi Clinic Team 2021, Sushila Gurung (Acupuncturist), Andrew Schlabach (Project Director), Satyamohan Dangol (Senior Acupuncturist), Amrita Gopali (Receptionist)
It has been two years since I have been in Nepal and our project has been forever transformed. Before COVID… Ha! Remember that? We have been operating in Nepal since 2008 and have become very invested in establishing what is known as a Healthy Lifestyle Clinic (HLC) model for rural Nepal. Healthy Lifestyle Clinics are a World Health Organization program focusing on non-communicable diseases (NCDs) and have been successfully established in many developing countries. It might sound funny to talk about non-communicable diseases in the face of a global pandemic but NCDs including chronic pain, heart disease, diabetes and respiratory illnesses are the leading cause of poverty and death globally. NCD's disproportionately affect developing countries. After COVID has become a distant memory, these diseases will still be costing millions of lives and trillions of dollars.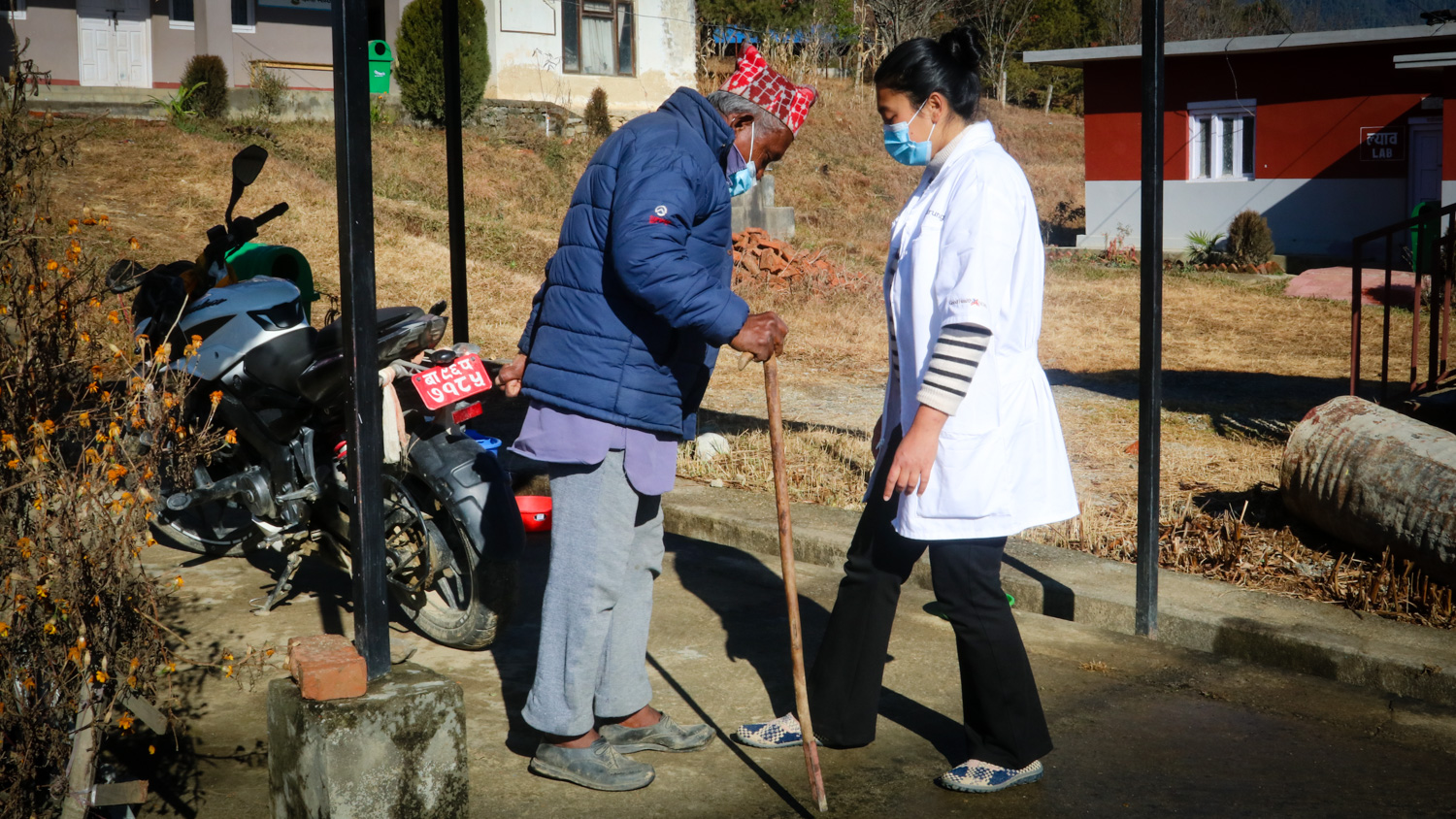 The Healthy Lifestyle Clinic model that we are trying to establish seeks to reduce the prevalence and severity of non-communicable diseases through better access to health screening and medical advice as-well-as patient education and case management. While medical therapeutics is important it is secondary to community wide efforts to reduce risk factors. Acupuncture plays a unique role in this context as it provides an inexpensive, safe and effective therapeutic modality for the management of NCDs, most notably, chronic pain which accounts for nearly 70% of primary care visits worldwide. Acupuncture relies on frequent and ongoing treatments for its efficacy which provides a platform for disease screening and patient management. Clinicians focus on the patient's primary concerns with acupuncture while assessing and surveilling for more profound disease processes and risk factors. Making sure our patients are on the right medications, taking them properly and assessing their effectiveness provides critical support to other physicians and medical facilities. Coordinating communication, referrals and follow ups also improves outcomes as our greater familiarity with a patient's condition reduces unnecessary investigations and treatment, more precisely guiding care.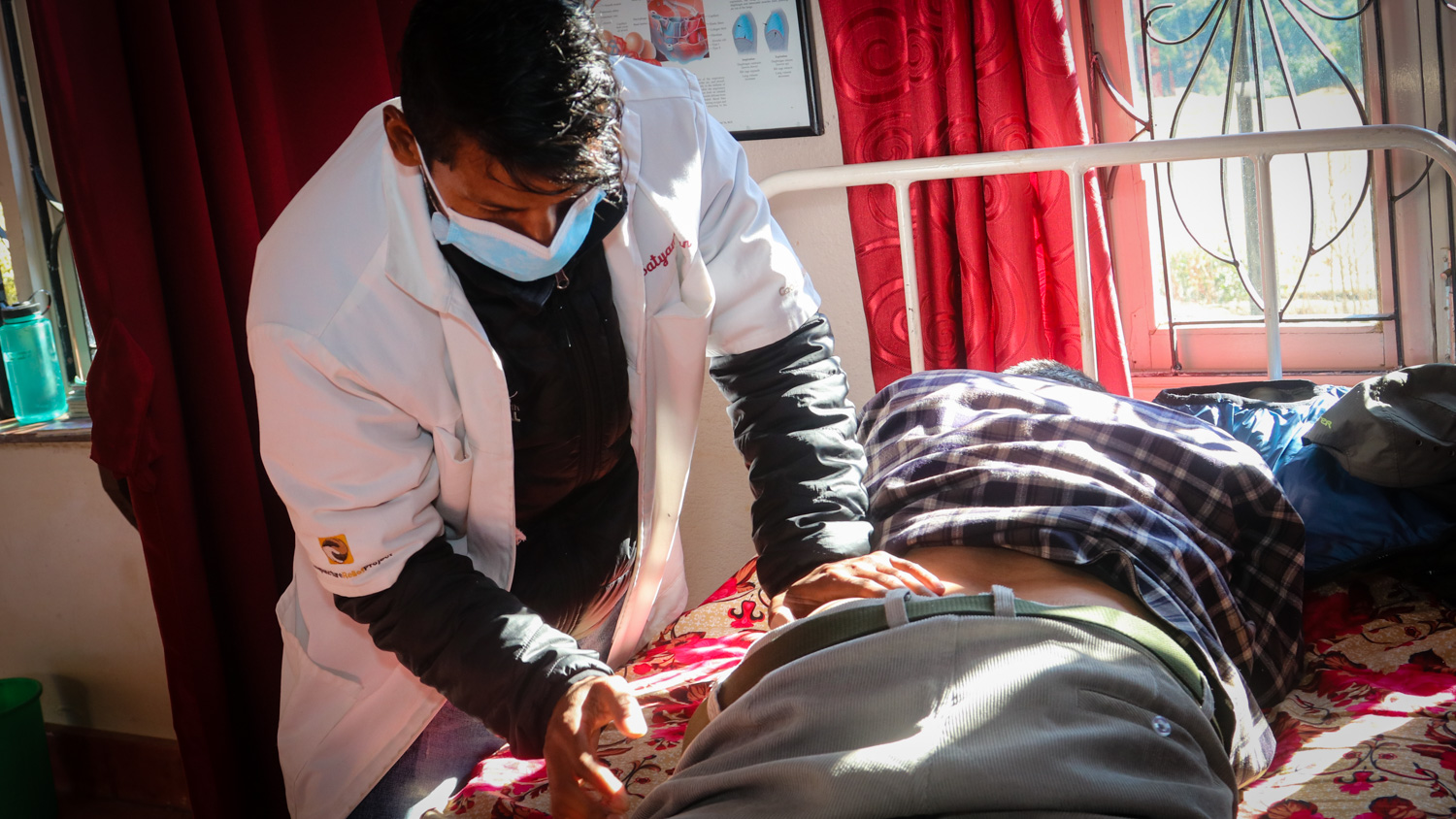 Just prior to the pandemic we were trying to figure out how to sustain the clinic with an all Nepali staff and reduce our reliance on foreign volunteers. Satyamohan Dangol had been working with us for over a decade and had been working in the Bajrabarahi clinic as a practitioner for three years. His wife, Sushila Gurung, began working with us as an interpreter in 2011 and has just graduated from acupuncture school and is recently licensed. In late 2019, we had brought her onto the project as an intern trainee and she had been working for a few months. Though these two showed great promise, they were reluctant to commit to a greater leadership role in providing services independently. Sanita Gopali who worked with us as an interpreter is from Kunchal, a small village near Bajrabarahi. She had begun her studies as an acupuncturist in Kathmandu but would not be available to us again for a couple of years.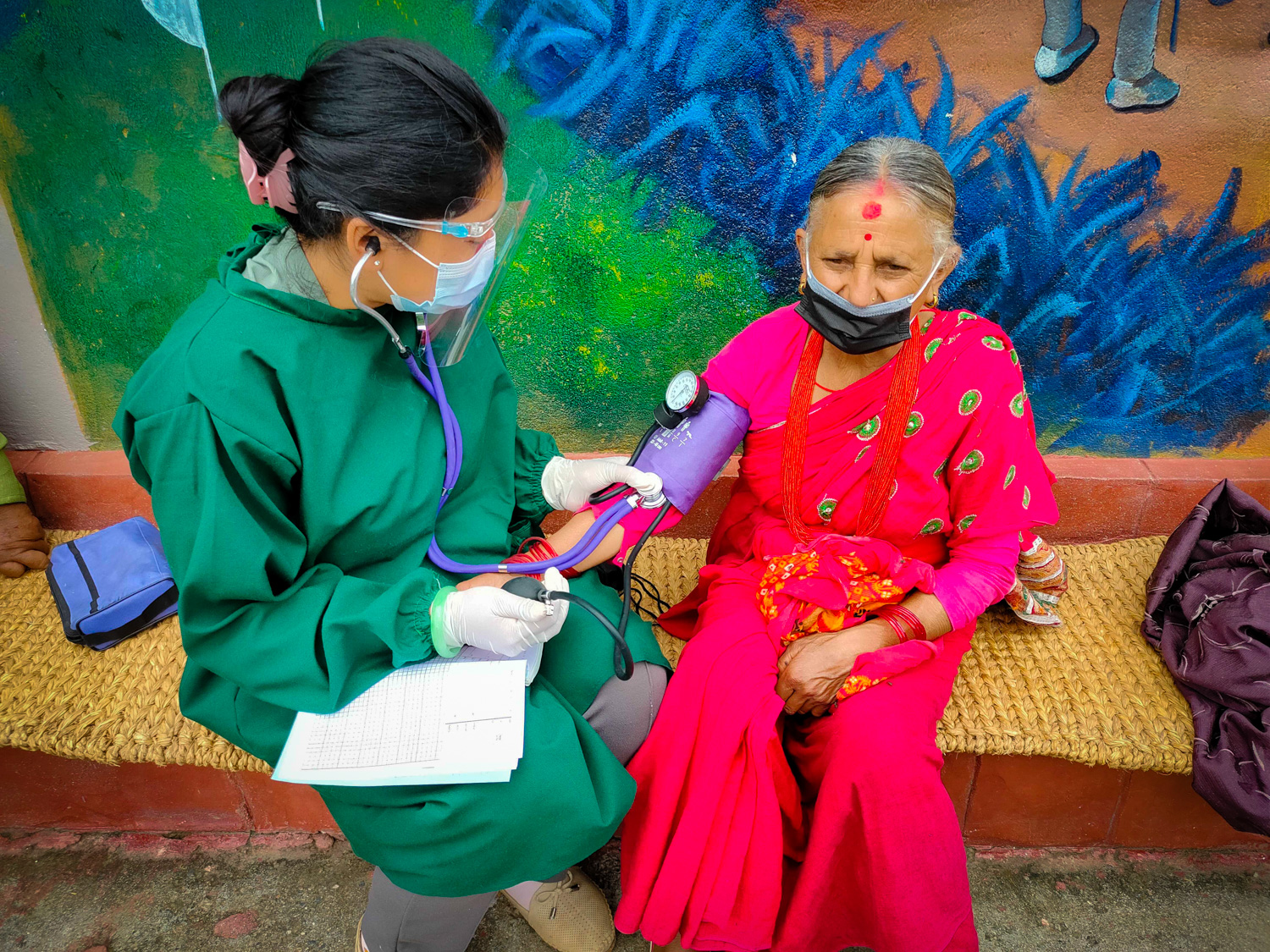 COVID PPE, Delta Wave, July 2021
In March 2020, everything changed. As countries around the world closed their borders we scrambled to send our volunteers home and our staff back to their respective villages. Our Clinic Director, Elissa Chapman, was literally on "the last flight out" headed to her home country of Australia after living in Bajrabarahi for three years. Lockdowns soon followed and our clinic was shuttered. Months passed and I think we all started to go a bit stir crazy. In late July, I received a message from Tsering Sherpa, our coordinator, that Satyamohan and Sushila wanted to go back to Bajrabarahi to reopen the clinic. We received clearance from the Municipal Health Office and discussed protocols for the "safe" operation of the clinic. Satyamohan and Sushila designed their own PPE and had it made by a local tailor. We met regularly via Zoom to discuss complicated cases as we cautiously went back to work. 
June 2021, a massive wave of the Delta variant swept across India and into Nepal. Cases spiraled out of control rapidly and again we were asked to suspend our clinic operations while our facilities were used for emergency response. Officially the Delta wave brought over 1800 cases and 14 deaths to our village. Unofficially the numbers are probably 2-3 times that. Much superstition and skepticism kept villagers from being tested and from seeking help when they were sick. Many of our friends caught this second wave and were sick for several weeks. Fortunately vaccine programs started to get traction in the rural areas and by September, Nepal was getting back to what we now think of as normal. We were able to reopen the clinic again. 
Stroke Recovery, Satyamohan and Sushila in action, 2021
The clinic did not just survive, it thrived with Satyamohan and Sushila seeing over 40 patients a day, six days a week. We discussed and they managed many complicated cases including a nine-year-old boy, Preus, who had sustained a brain injury from a Typhoid infection two years before. Satyamohan and Sushila worked with Preus everyday for two months as he learned to speak and walk again under their care. They managed strokes, palsies, neuromas, diabetes, hypertension, breathing difficulties, and a myriad of musculoskeletal pain complaints.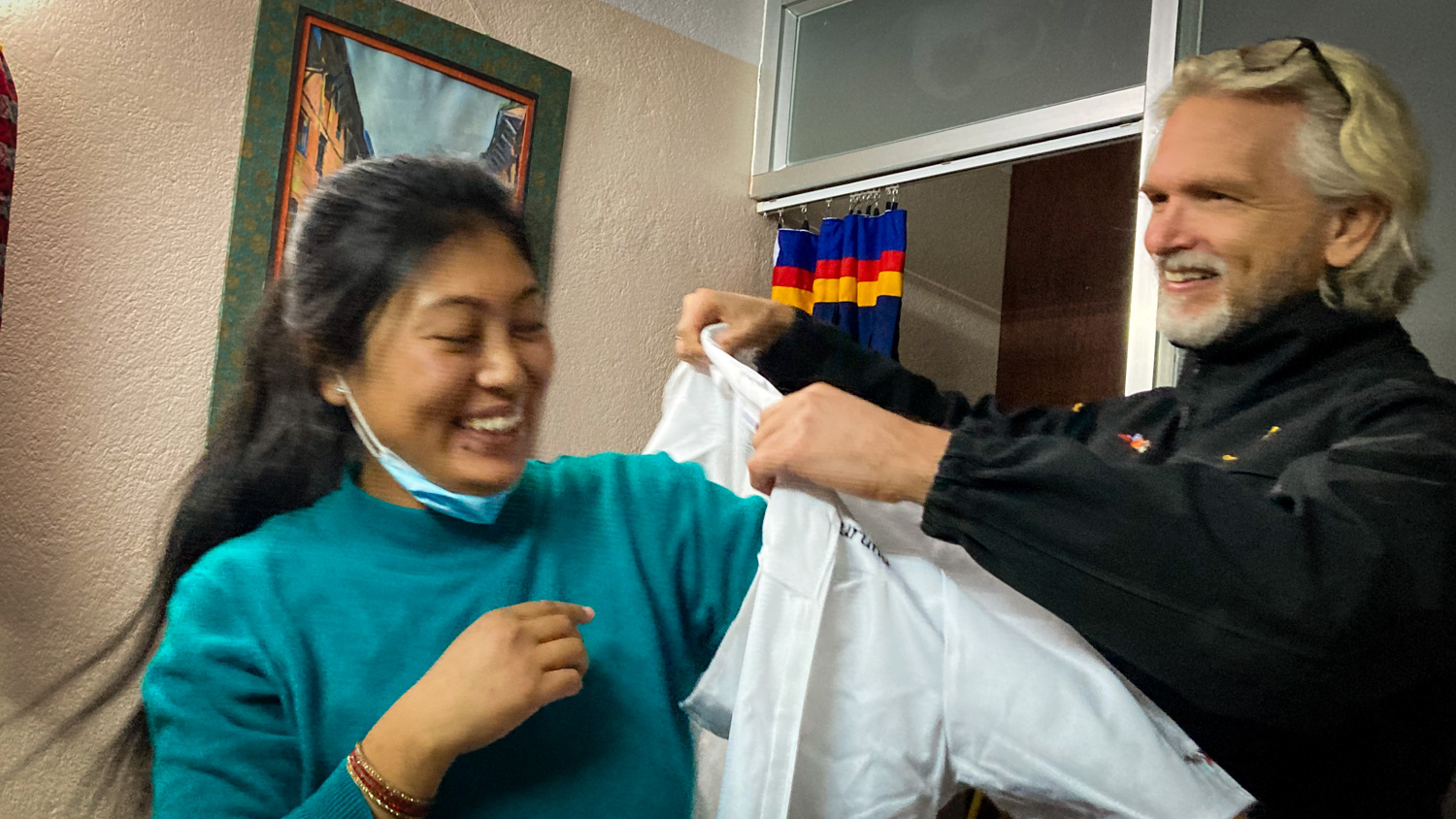 By the time I was finally able to return to Nepal in December this year, Satyamohan and Sushila had established themselves as the de facto clinic doctors and had earned the trust of the local community. Sushila had earned her white jacket and I was so proud to put it on her as a symbol of her new permanent role. They were both eager to discuss cases and do several weeks of advance training with me on top of running the clinic all day.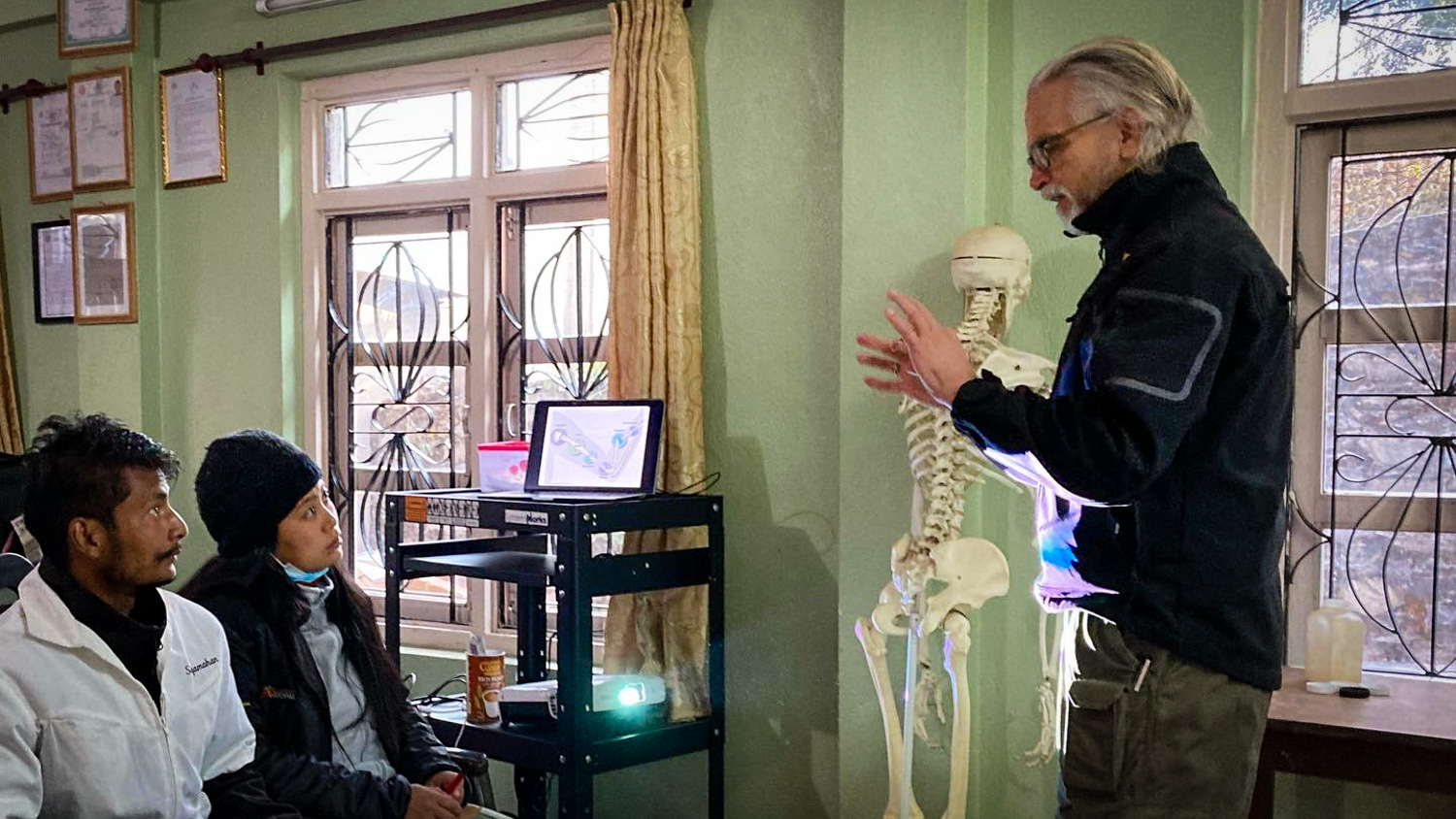 Today, I'm enjoying being in a supporting role watching Satyamohan take Ramkrishna's vital signs. "Kamjor vayera malia uthna garo vayeko chaa (I'm too weak to stand)" Ramkrishna wheezed. "Have you been vaccinated for COVID?" Satyamohan asked. "Johnson and Johnson '' Ramkrishna replied in English with a big smile. Alone and laying in this shed all day Ramkrishna was becoming weaker and weaker. And with subfreezing temperatures at night, the edema (fluid) in his lungs was certain to turn into pneumonia.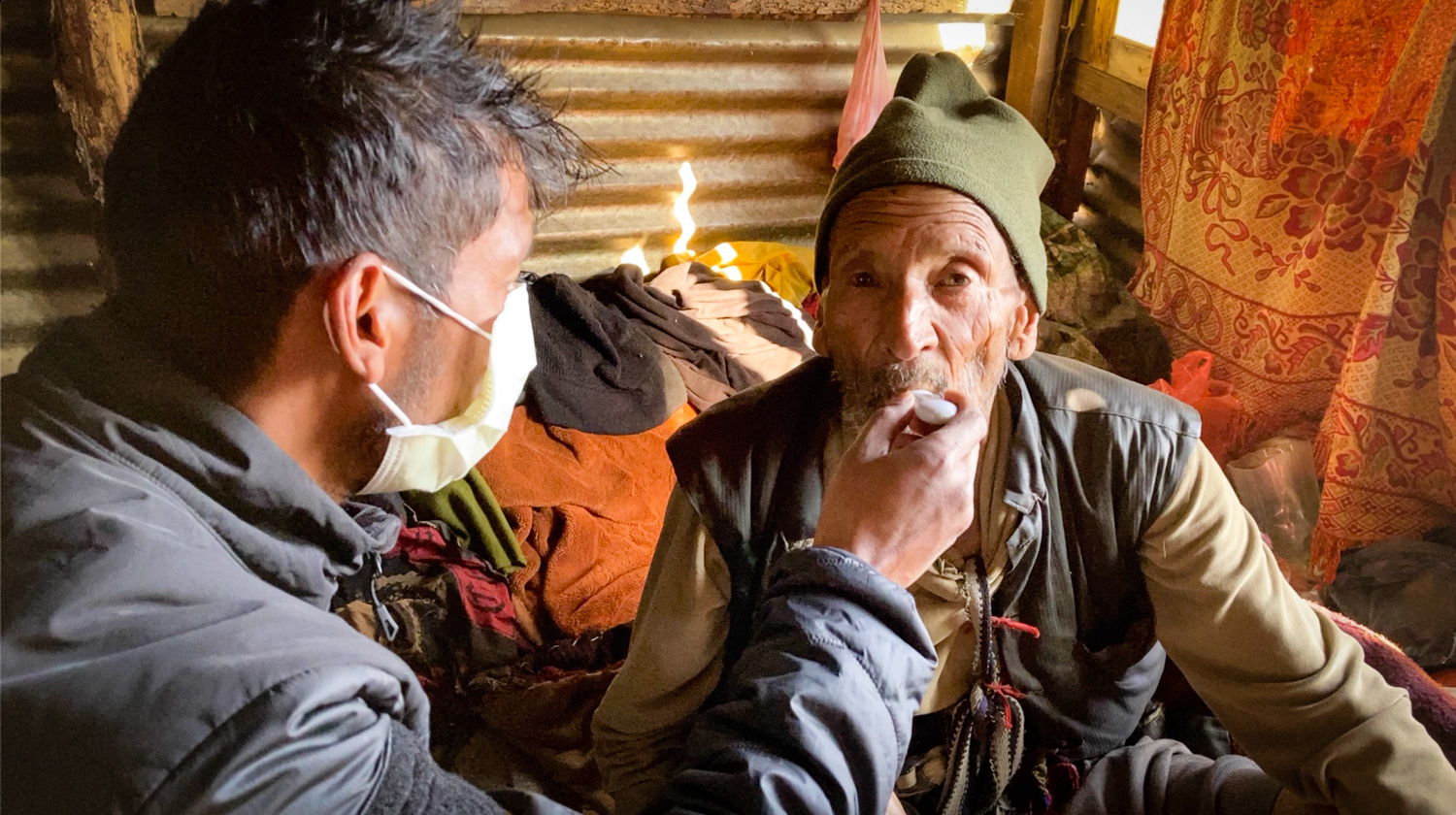 As Satyamohan managed the encounter, listening to the crackles in Ramkrishna lower lungs and looking over his medication, I was free to just take in the scene.
After almost two years of divisive and hateful drama in the United States, this old man was challenging me to remember what all of the fuss is about. Surely there has to be better things to worry about than wearing a mask or getting a vaccine. Ramkrishna has none of the "things" that we think add value to our lives and despite our best efforts, it is likely he will not survive the Winter. He has lived a human life. Only he knows his entire story and perhaps no one will remember him. But… 
Ramkrishna is in good hands. Caring and competent hands. In the end I think this is what we would want for ourselves and our loved ones. Someone to show up because they care and ease our suffering with their presence, expertise and integrity. This is what I saw today. 
Now with the Omicron variant on the rise we are likely to see further disruptions but we will manage. We have petitioned the local government to fund the wages of Satyamohan and Sushila and that looks promising. We are planning to resume some volunteer activities as soon as it is practical (maybe Spring 2022) though our volunteers will now serve a support role to our primary practitioners in sustaining our efforts. As a follow up to our 2018 research project on the prevalence and risk factors of NCDs in our catchment area, we are advancing a grant proposal to the central government to fund expanded research, covering the entire municipality. Sanita Gopali will finish her schooling and be qualified to join the clinic within a few months. We look forward to welcoming her to the team as an intern.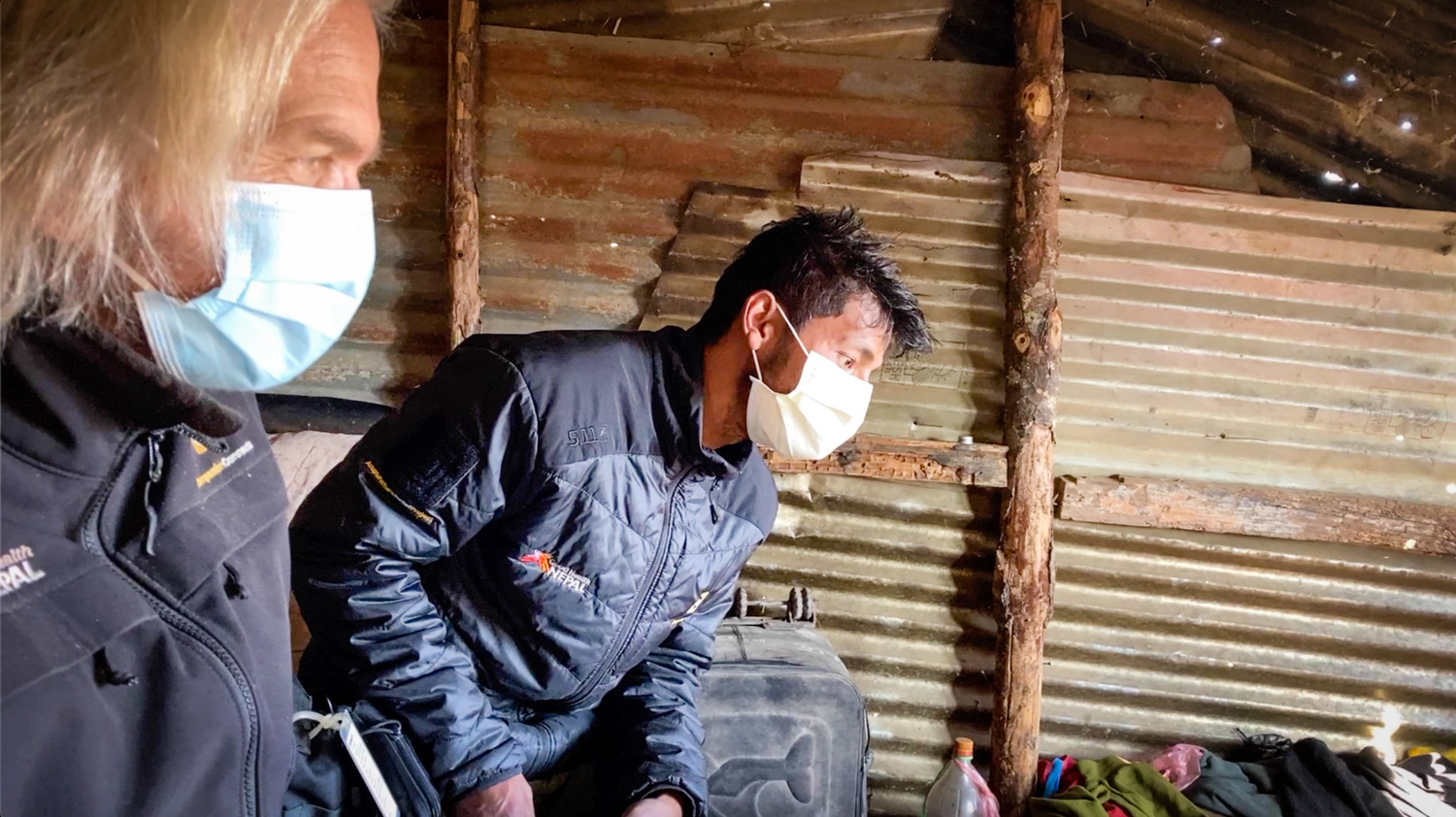 To say that I am proud of our little clinic project would do a disservice to the word. I am far beyond that. I have led an extraordinary life and I am humbled to be sitting here with my friend Satyamohan in the presence of Ramkrishna in the tin shed. --- Andrew
Author: Andrew Schlabach, AEMP LAc
Director, Acupuncture Relief Project
Bajrabarahi, Thaha, Makwanpur Nepal