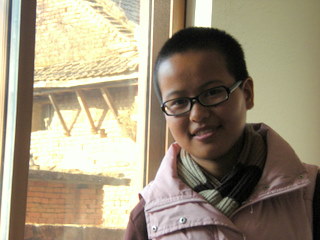 Namaste,
I am Ani Yangchen. I am 17 years old but I look older than I am. I am a Buddhist nun. I belong to Nagi Gompa which is located below Shivapuri. It's been 2 years that I am living as a nun.
How I came in this clinic is that Phakchok Rinpoche asked if I would be an interpreter and help the doctors because we have foreign doctors coming to the clinic. The villagers in Chapagaon do not speak or understand English. That is how I became a member of this clinic, the Bajra Barahi Monastery Clinic.
I enjoy working with the doctors as an interpreter. I am so happy that I can help people. I enjoy hearing stories of the people. Also, I have learned about many health conditions. I have seen things I never knew about before with peoples health and the body. I have become interested in acupuncture and understanding how the needles work. Sometimes I even dream at night about patients, like the man who told me his stomach was so bloated he felt like he had a baby in it. I feel helpful because patients tell me that they are thankful that I can speak to the doctor.
Thank you. Love, Ani Yangchen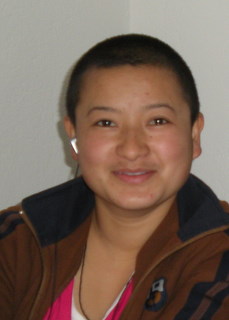 Namaste,
My name is Ani Kalpana. I'm 27 years old. I live in Nagi Gompa (a monastery). I have been a nun for 14 years. During these 14 years, I never noticed how the time passed at my peaceful and beautiful monastery. The monastery (Gompa) is like a heaven.
The elder nun and my friends who are in the monastery are friendly with each other and caring. I work in the clinic at the monastery. Because of that, the elder nun sent me to learn something from here for my monastery.
I wish I could help and serve society. Especially the older citizens and poor people. I'm so pleased with Dr. Nicky [our clinic coordinator] because she trained me. If she had not trained me I would not know how to work in the clinic.
I have learned many things from here. It's very enjoyable working with a group. I never thought it would be fun and enjoyable. I love the way Diane works and her smile is so lovely. People get well from acupuncture and they are happy.
Thank you. Love, Ani Kalpana