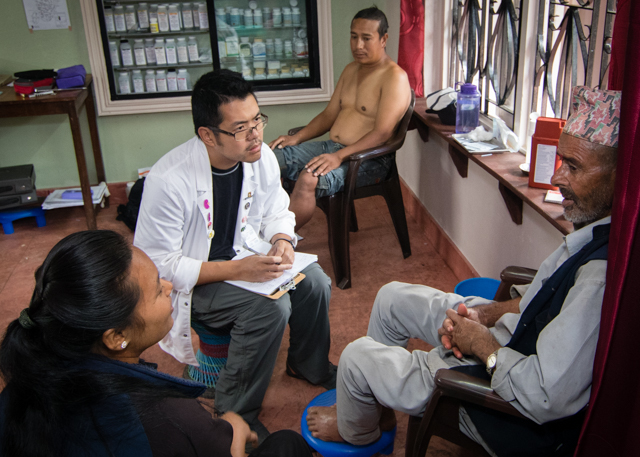 Fun fact, my body is 85% digestive tract with the rest being sensory and motor structures that assist me in attaining more food.  My genetics are closely related to a fluke.  
I love food.  From fancy, high class meals (when they can be afforded/somebody else is paying), to simple home food, to in moments of weakness, blue box macaroni & cheese and/or packaged instant ramen.  When traveling I have a deep respect for the food because I find that local food is the quickest way to get to know a culture.  With globalization, and the increase of foreign travel, restaurants can always be found that have western food to appeal to picky foreigners or foreigners who are craving food from home.  Initially, I try to soak up at much of the local cuisine as I can in a new place.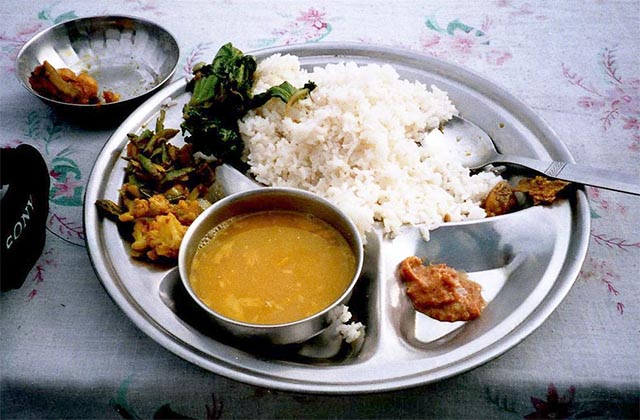 Here in Nepal, the staple is dal bhat, or lentils and rice.  The rice and lentil combo is the starting point and vehicle for the rest of the meal which often consists of vegetables or protein and a bit of spicy chili or spicy/sour pickle.  Infinitely transmutable, it is a healthy and balanced meal that keeps ARP practitioners going for 90% of our meals as it is lovingly prepared by our staff cooks. 
The rest of time when not being fed 3 square meals by our cooks, sometimes we travel back into the big city of Kathmandu where there are many options for food, or even here in the town of Bajra Barahi there are sit down food cafe's that we can go to for a meal.  Some of my favorites  that I've had (multiple times) are listed below: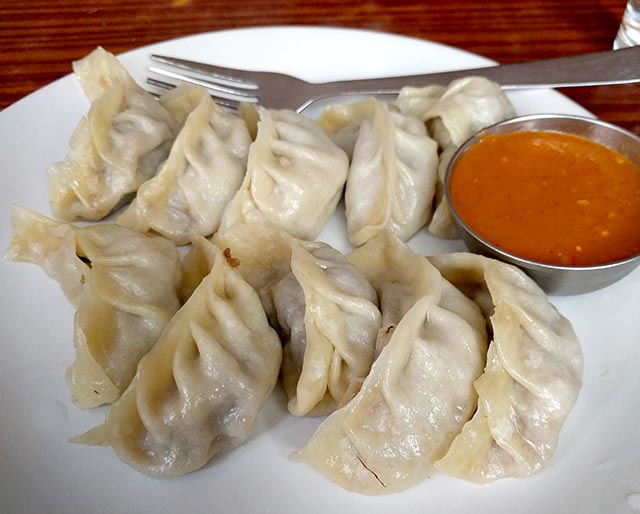 First is the momo.  A steamed, sometimes fried, dumpling with your choice of filling.  The standard, and my favorite, is 'buff' or buffalo meat. (cows are special in this part of the world; if you're a chicken, buffalo or *gasp* a goat you are gonna be somebody's dinner my friend)  I've yet to be hear otherwise, but I'm pretty sure all cultures have a dish that consists of filling inside dough.  When I travel, I love looking for the regional dumpling specialty.  Traveling in Asia is great because you often have too many options for dumplings.  The thing I like about the buff momo is the interplay between the spiced filling and the soft outer casing.  There's also the many ways I've seen the momos served; sometimes it's simply on a metal plate with a side of this mild, tomato based dipping sauce or sometimes it's served in a thinner, spiced soup.  Like dal bat, there is also variety in fillings; if you don't like buffalo meat you can have vegetables, chicken, and in a few cases while I was trekking in the mountains, a "snickers bar momo" that I was curious to try but worried that my teeth might rot out of my head.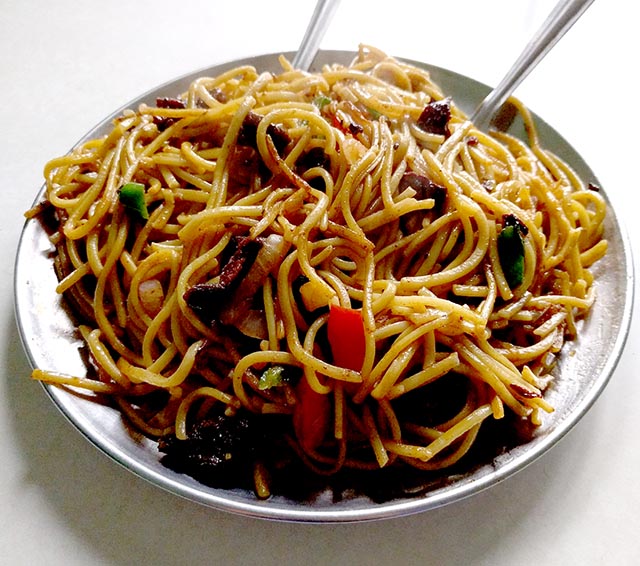 Second, is any variety of chow mein.  Yes, the dish that you pick up at your local take out spot that fills that takeout box in an impossible way that makes you feel like you'll be fed for days, and the dish that I typically avoid when I visit a chinese restaurant back home, has somehow become something I crave now.  Perhaps there's something to do with the core of my Chinese heritage that misses noddles; I can't explain it, but I like it and typing about it is making me want it more.  Like the foods listed above, chow mein can be had so many different ways, but the magic of when noddles and oil fry together in a hot pan is where I fall in love.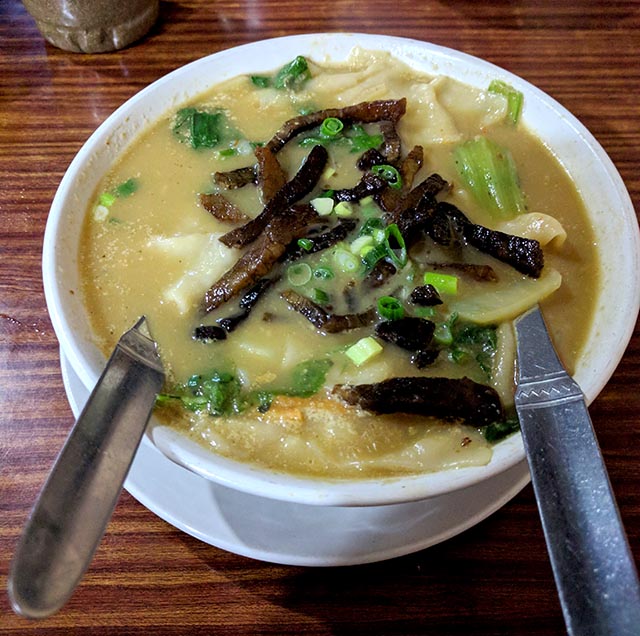 Next, is thenduk, a dish that is as fun to say as it is good to eat.  Sounding a bit like an otomotopia; thuptka is a noodle soup concoction with thick rice flour noodles.  The soup is thickened either with starch or made from bone broth, but it is amazing.  Often with a piece or two of vegetables to pair with whatever ingredient you want (buffalo, chicken, vegetarian etc.) the dish is hearty and has that, homey, made by mum feel to it.  Just like the other foods listed above, it's hard not to compare them to similar Chinese dishes, however, I think if you looked, most cultures have a starch + soup combination that tastes extra delicious when you're feeling sick.  
Before we close this blog, I do want to issue a warning; If given the chance, Nepali's can and will try to kill you with hospitality. "Nepali Food Torture" is a thing.  Our crew was invited to an Interpreter's house for the Tihar/Diwali holiday and we were given a plate of buffalo meat, seasoned peanuts/chickpeas, potatoes, and a long piece of fried dough along with some rakshi, a local alcohol of dubious alcoholic content that everybody makes at home.  The food was a spicy and flavorful and the rakshi, was alcoholic tasting enough to tell you there was probably 15-30% ABV and it was just drinkable enough that you could easily get in trouble drinking it.  What I did not know was that there was a sequel to this meal; We were then invited to a relative's house where the Tihar/Diwali Bai tikka ceremony would take place; where the men of the house are given an appreciation ceremony administered by an aunt/sister/female cousin.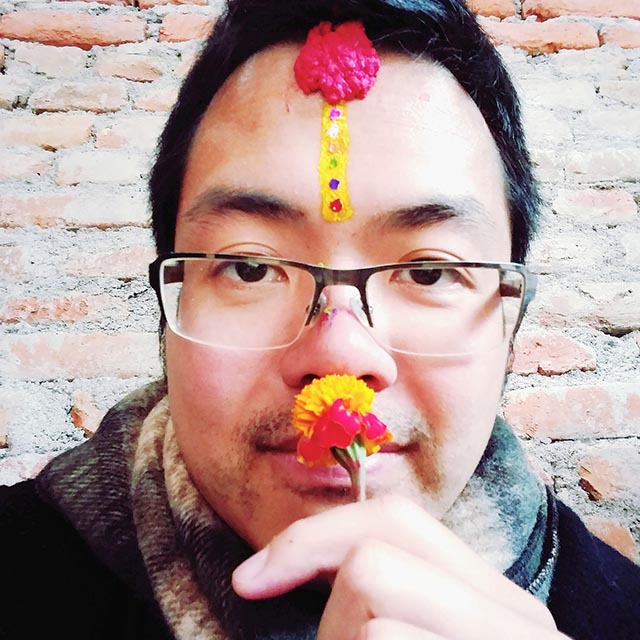 This was a wonderful ceremony to observe and even be a part of as our foreheads were also dotted with the ceremonial dyes.  Meal #2 came and it seemed to be endless as it was continually piled on to our plates by our hosts.  There was more spiced meat, more holiday sweets and more rakshi to drink.  My brain is hardwired if somebody offers you food/drink and hospitality that you be polite and you clean your plate; if more is offered, you keep going.  I succeeded where some of my compatriots did not (sissies) and cleaned my plate and drained my cup.  Victory in hand and head held high, I quickly ambled home for a nap. (not shown in my photo above; how uncomfortably full I am)
While Nepal might not be known for its food compared to other Asian/Pan-Pacific countries like Singapore, the food is good, is nutritious and is less animal protein-centric which is better in the long run.  My advice to visiting practitioners is embrace the simplicity of the food here, and when you do crave something different, go into town and scratch that itch with a snickers bar or a packet of cookies/biscuits.
Anyway, Ta ta for now; it's breakfast time, may your meals be warm and your bellies full! See you next tale. -- Jeff Chiu