---
Erin Smith LAc
March 2015
OVERVIEW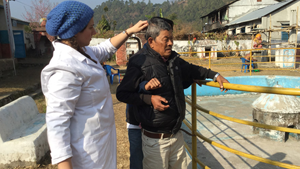 58-year-old male patient presents with ataxia, severe dizziness, vertigo and slurred speech. Symptoms started after a severe febrile illness in November 2012, and appear to be getting worse since that time. After 8 acupuncture treatments, patient reports a minimal decrease in overall dizziness and vertigo, and his walking appears slightly smoother immediately after receiving acupuncture.
Subjective
In November 2012, patient had a febrile illness for 6 or 7 days with severe vomiting, diarrhea and dark colored stools. Immediately following this illness, patient reports difficulty speaking and walking. He was admitted to the hospital for several days and received a CT scan, a routine blood panel, urine and stool testing, and was put on medication, which he discontinued on his own. 
Patient presents with difficulty walking independently and slurred speech, which he reports has gotten worse since the febrile illness in 2012. Whenever he stands up and starts to walk, he has severe dizziness and vertigo and feels like he and his environment are spinning. No change in dizziness when he stands and looks upward. He is unable to stand up or walk without support. He reports occasional mild back pain, more chronic than the current illness and not coinciding with the difficulty walking. He has no pain in his legs.
He reports being diagnosed with high blood pressure, but stopped taking the medication as it "was not helping" him. He has headaches at least a few nights per week. The location and severity of the headaches is hard for him to determine. He is unaware of a history of ear pain or chronic ear infections. There is no hearing loss or ringing in the ears present. He has had blurry vision in the right eye for the past 20 years, after a foreign body hit him in the eye while he was riding the bus. Glasses have been recommended, but he prefers not to wear them. 
Objective
Patient presents with ataxia with inability to walk or stand from a seated position without support. He has mild muscle spasticity on both legs while walking with support. Patient is able to stand on his own briefly, reports feeling very dizzy and unstable, and visibly has a hard time maintaining equilibrium. Balance is equally unstable when standing on just his right or left leg with support. The patient is able to walk on his toes and heels, while supported, with no pain.
The deep tendon reflexes of both patellas, Achilles' tendons and hamstrings are all responsive and normal. Seated muscle testing of knee flexion, extension, ankle dorsiflexion and plantar flexion, and hip abduction and adduction bilaterally all have normal strength and range-of-motion. All cranial nerve tests are normal. Patient is able to move both arms smoothly overhead and no intention tremor is apparent. Tympanic membranes are both intact, though may have minimal scarring. No pain present around the ears with palpation. Nystagmus is not present.
Blood pressure is measured at 165/105. He is missing several front teeth, which he reports fell out on their own several years ago.
Directly after the febrile episode, on 11/19/12, he had a MDCT scan of his head. The report concluded there were no abnormalities present at that time. All routine blood and urine testing was normal. EKG and ultrasound of the pelvis and abdomen were also normal.
The pulse on the left hand is thin overall, and deep and weak in the chi position. The pulse on the right hand is slippery and forceful in the cun and guan positions, and deep and weak in the chi position.
The tongue has a dry, pink body with a thick, yellow coat at the root. 
Assessment
DX: Cerebellar ataxia due to febrile illness
The patient does not have recent medical records or thorough diagnostic imaging. Several neurological conditions are also possible diagnoses in this case. Multiple sclerosis, Ménière's disease and other causes of damage to the cerebellum must also be considered for this patient.
Multiple sclerosis (MS) can often present with ataxia and slurred speech, although these are not typically the primary symptoms associated with this disease. The most common symptoms of cerebellar dysfunction that are seen in MS can include dysarthria, instability of the head and trunk, intention tremor and incoordination of voluntary movements and gait. Along with ataxia, nystagmus can also appear early in the disease. MS is an autoimmune disease, typically starting between the ages of 20 and 40, more common in women than men. Most forms of MS usually start gradually, with an attack of symptoms, followed by a period of remission. Primary progressive MS does not have any periods of remission. It gets progressively worse, and typically presents with other primary symptoms that are not seen in this case, such as extreme fatigue, pain, numbness and tingling. Primary progressive MS can be ruled out definitively with an MRI of the brain and spinal cord with absence of scarring of the myelin, and a lumbar puncture of fluid surrounding brain and spinal cord, showing an absence of antibodies.
Ménière's disease is a disease of the inner ear. This diagnosis is initially considered before his symptom of slurring of the speech is known. The primary symptom of Ménière's disease is recurrent episodes of vertigo, which can last 20 minutes to 24 hours at a time. When severe, it can lead to falling and difficulty walking. Ménière's disease typically presents with hearing loss, ringing in the ears, and a feeling of fullness or pressure in the ear, with which this patient does not present. His balance is not improving and vertigo is constant when he is standing and attempting to walk, neither of which are present in Ménière's disease.
Cerebellar ataxia, due to stroke, is also possible, but not likely for this patient. Cerebellar stroke accounts for only 1% of all strokes and has 1 of the highest mortality rates. This type of stroke typically comes on suddenly with symptoms of headache, nausea, repeated vomiting, dizziness, vertigo and inability to walk or stand, but does not typically include fever or diarrhea. Coma occurs in about 50% of these cases and edema formation is also common, often leading to sudden respiratory arrest. Other causes of cerebellar damage are more genetic in nature and occur earlier in life, or are a result of nutritional deficiencies primarily related to alcoholism, which are not factors for this patient. 
The diagnosis for this patient is likely to be cerebellar ataxia due to physical trauma, which in this case was a prolonged fever. Based on the history of his present illness, his symptoms started directly after having a prolonged fever for 6 to 7 days. The cerebellum is particularly sensitive to thermal injury, and prolonged fever can cause irreversible damage to the tissue and permanent cerebellar dysfunction. The damage is expected to be along the midline of the cerebellum, as the movement of the trunk and legs are affected in this patient. The damage would more likely be along the lateral hemispheres if the arms were affected. The damage is also suspected to be bilateral, as speech disturbance occurs only when damage is along both sides of the cerebellum. The most primitive areas of the cerebellum are connected with the vestibular nuclei and apparatus. Damage to this part of the cerebellum results in disequilibrium that is obvious with rapid changes of body position, and the presence of dizziness and vertigo, both of which this patient displays. These signs and symptoms can make the damage look like it is in the vestibular system itself, although coming from damage to the cerebellum. 
TCM DX: External wind in the channels with underlying Kidney qi deficiency
The initial febrile illness resulted in an external invasion in the channels from which the patient has not recovered. He had no obvious preexisting signs of wind due to organ pathology before the febrile illness, making the source of wind most likely external in nature. Kidney qi deficiency is evident in this case due to age of the patient, history of hard physical labor before his present illness, intermittent lower back pain, missing teeth and the weakness of bilateral chi pulse positions.
Prognosis
Prognosis is poor due to the likely source of injury from November 2012. The main goal of treatment is to support the overall health and well-being of the patient, and potentially slow the progression of the neurological disease. Although unlikely, based on other clinical results involving brain trauma, it is also possible that with intense treatment, the patient may regain the ability to walk independently, and improve the quality of his speech. Acupuncture, electro-acupuncture and Chinese herbal medicine will all be used to work towards these goals. 
Initial Plan
Acupuncture treatments are recommended 2 to 3 times per week for 16 sessions before reevaluation. Acupuncture would have been recommended more often, due to the severity of the patient's condition, however he lives over 2 hours from the clinic and has to rely on family support to bring him by bus. 
The focus of treatment is to expel wind from the body to reduce spasticity and erratic movement of the legs while walking, and to support the Kidney organ system. Typical acupuncture treatments involve combinations of the following points: GB12, 20, 34, 39, 41, SI3, BL62, TW5, LU7, LI4, LR3, 8, SP6, KD3, 6 and Ba Feng.
Scalp acupuncture with electro-stimulation is used along the motor line, including the speech, dizziness and vertigo area, and 3 lines for voluntary movement. Scalp needles are manipulated for 10-15 minutes while patient walks with assistance or moves legs while seated. Electro-stimulation is used passively for approximately 25 minutes.
The Chinese herbal formula, Qu Ji Di Huang Wan, is selected to help nourish the Kidneys with added support for the eyes. 
The Epley maneuver is performed at the first several treatments before Ménière's disease is ruled out as a diagnosis.
Patient is referred for glasses to reduce the effect the blurry vision in his right eye is having on his dizziness and walking. It is recommended that he continues to have his blood pressure monitored and resume medication if needed to reduce the long-term risk of stroke. Updated and more thorough imaging, and a routine blood panel are recommended to help confirm the diagnosis. However, this information is not likely to change the direction of treatment or prognosis based on the history of the illness and objective information, and will likely put a greater financial strain on the family.
The patient is informed of the prognosis of his illness, including the unlikelihood of regaining the ability to walk independently or improve his speech. He agreed that using acupuncture and Chinese medicine to try to regain some level of normal function, reduce the severity of his symptoms, and support his body as a whole, is worth the investment of his time.
Outcome
After receiving the Epley maneuver, patient reported an initial decrease in dizziness and vertigo, but stopped improving after a few repetitions. The maneuver became unnecessary as the patient no longer felt dizzy with the various changes in head position.
Patient showed little response to the 8 acupuncture treatments. Before-and-after videos showed the patient's gait to be slightly smoother with less muscle spasticity after treatment. The patient reported feeling less dizziness and vertigo immediately following treatment and at night. His symptoms while walking, however, remained unchanged. No change in quality of his speech had been detected. After the first several weeks of treatment, the patient became less compliant with the frequency of his treatments, as the travel distance and subsequent hardship made treatment frequency too difficult for the patient and his family.
Revised Plan and Prognosis
Since the patient showed minimal improvement, it was recommended that he continue treatments later this year when a team will be present for 6 continuous months. If he is able to have 2 to 4 treatments per week for 12-15 weeks straight, it will be more evident if his symptoms will continue to show improvement, or if the minimal improvement already seen is the maximum benefit expected. His prognosis remains poor due to the nature of brain damage, the progression of his symptoms over time, and his advancing age. Considering how severely this affects his life, it is worth an intensive series of treatments on a frequent basis to see if his brain can be retrained to coordinate walking. The patient and his family are unsure of their ability to be compliant with the frequency of treatment based on the hardship they are experiencing, and the amount of effort it takes for him to come to a session.
Conclusion
The patient was only able to make it to the clinic for 8 treatments out of the recommended 16. Patient compliance with acupuncture treatment is even more important for patients who have severe pathology, such as brain trauma. It is not uncommon for results to be very slow for patients with severe conditions, and although minimal, he was making some progress in the quality and intention of his gait, and reduction in dizziness and vertigo. Based on several factors surrounding this case, it is unlikely that his walking will ever be what it once was, but it is in the realm of possibility to help him regain some of the coordination he would need to be able to walk on his own with the support of a walking stick. For him to regain even that level of independence would greatly improve the quality of his life, since he places a great burden on his family because of his lack of function. This is obviously difficult for him to accept. With acupuncture and Chinese medicine, it is possible that giving his body some much-needed support, and clearing some of the remaining external pathogens, his symptoms may start to improve. He has made little progress in just 8 visits, but there is still a chance for him to improve with an intensive series of treatments.