---
Helena Nyssen BA AppSc (TCM)
November 2014
OVERVIEW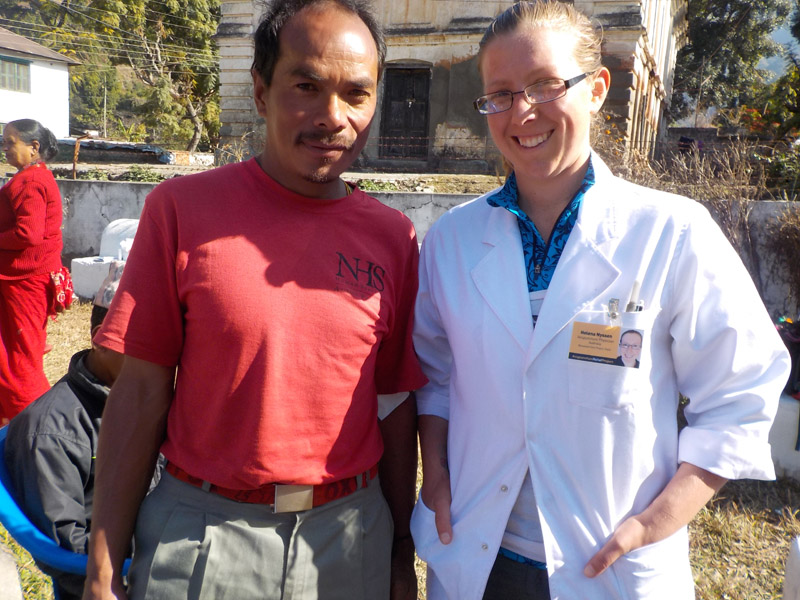 28-year-old male presents with chronic sinusitis, nasal blockage, throat pain and ulcerations for 18 months. The patient also presents with gastric pain. After 9 acupuncture treatments over the course of 1 month, the sinus blockage is 100% resolved, with a complete resolution of subjective throat pain and ulcerations upon inspection. The gastric pain is significantly improved.
Subjective
The patient presents to the clinic reporting symptoms of throat pain beginning 18 months prior to the first consultation at this clinic, and becoming progressively worse. The pain is constant, and worse at night. Consumption of hot, salty or spicy food or drink aggravates the pain. Cool drinks are relieving. 
The patient also presents with complete sinus blockage, with an inability to breathe through the nose. He daily expectorates a small amount of yellow, watery phlegm from the nose. He finds smoky environments irritating. He experiences temporary relief with the use of saline solution and a neti pot.
He reports epigastric pain that is worse with cold foods, and bloating every day that is relieved by belching. He experiences occasional acid reflux and diarrhea, and night sweats, anxiety, lower back pain, poor energy, weakness and the occasional headache. All symptoms flare up simultaneously.
He has never smoked, although he chews tobacco daily. He occasionally drinks alcohol. The patient uses Rynex (cough suppressant, decongestant and antihistamine), as needed, to relieve his symptoms.
Objective
The patient is noticeably congested, with a constant sniff and breathing through the mouth. He has no fever or sweating, and a normal facial complexion without flushing. An endoscopy performed 18 months before presentation to the clinic was negative for any gastrointestinal ulcers. Upon visual inspection, there are multiple ulcers at the back of the throat (on the oropharynx and posterior soft palate). The ulcers are small in size, approximately 1-3mm in diameter, red and swollen at the edges, with a white interior. There are no ulcers visible within the oral cavity, and the tonsils appear only slightly swollen, but without ulcers or exudate. The uvula itself is swollen and deviated to the right. The lymph nodes of the neck show no swelling or pain on palpation. Visual inspection of the nose reveals small polyps bilaterally. The polyps are approximately 0.3cm across, but not large enough to block the nasal passage. They are pink in appearance with no exudate.
Pulse: Rapid and thready
Tongue: Big, sticky, deep yellow coat
Assessment
DX: Chronic sinusitis and upper respiratory tract inflammation; Possible chronic bacterial or viral infection, such as streptococcus or mononucleosis 
TCM DX: Kidney yin deficiency with deficient heat rising and scorching the Lung 
PROGNOSIS: With regular acupuncture treatments, reduction of throat pain and congestion is expected within 10 treatments. The nasal polyps are only treatable with surgery. Because there is no pathological findings within the gastrointestinal system, it is expected that positive functional improvement can be gained with acupuncture and dietary changes.
Initial Plan
Treat with acupuncture 2-3 times per week for 10 treatments before reassessing.
Focus on reducing the heat in the throat and tonifying the Kidney yin. 
Base Rx: KD7, KD6, LV3, ST44, LI4, KD3, PC6, LU7, LI20, Bitong, as well as threading the REN and Stomach channel
Advice: Stop chewing tobacco, avoid smoky environments, keep using neti pot as needed, ensuring the water is boiled clean first.
Outcome
After 9 treatments, the patient reported major changes in his throat pain, ease of breathing, and gastric pain. He experienced no throat pain at all, eating and drinking was no longer painful, and he could breathe freely through his nose. His gastric pain was relieved by a reported 75%. He no longer experienced coughing or sniffling, but still had some bloating. He discontinued his treatment at this point because he was happy with his level of improvement. The patient generally felt he had more energy. His anxiety had reduced to the point he rarely noticed it, and he no longer experienced night sweats. The throat ulcers had resolved and the oropharynx and tonsils appeared a healthy pink colour, without swelling. The nasal polyps were unchanged.
Conclusion
Acute or chronic infection was not considered as thoroughly as it should have been, as the patient had already experienced the symptoms for 18 months upon presentation to the clinic, and did not display signs of fever or swollen lymph nodes. The treatment may have been improved by further defining the cause of his throat pain and ulcerations. Antibiotics may have been helpful in this case. However, acupuncture treatment still achieved a satisfactory reduction in his subjective and objective symptoms.
A TCM diagnosis of Lung yin deficiency could have been explored for a more targeted treatment.
The patient's outcome was improved by his compliance with lifestyle and diet advice, and his commitment to regular treatments (2-3 times per week). This case clearly illustrates the effectiveness of acupuncture for chronic sinus congestion and sore throat.