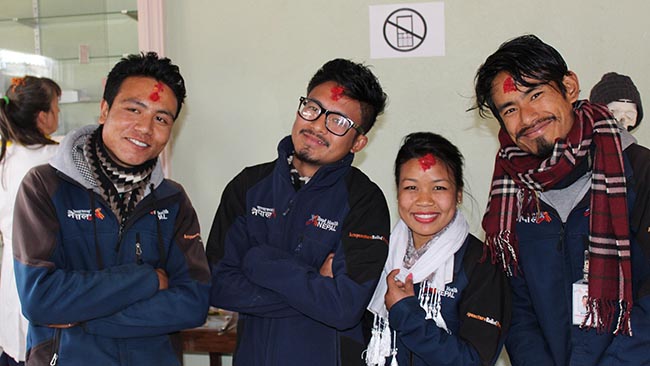 For me, meeting the local interpreters, acupuncture students and our cook, and getting to know them on a personal level, has been the most amazing experience.
The high unemployment rate in Nepal means that many young people try to seek opportunities abroad and are likely to end up exploited as cheap labour. The average yearly wage of a Nepalese is $240USD and for many, going on a holiday is but a dream. I had a chance to listen to the stories of some of the youth I met and worked with.  Prior to working for ARP, some were unemployed or had unstable low paying jobs, and pursuing higher education was something that they couldn't all afford to do. Seeing their potential, ARP offered them a meaningful way to earn money and contribute back to their communities. Here are their stories: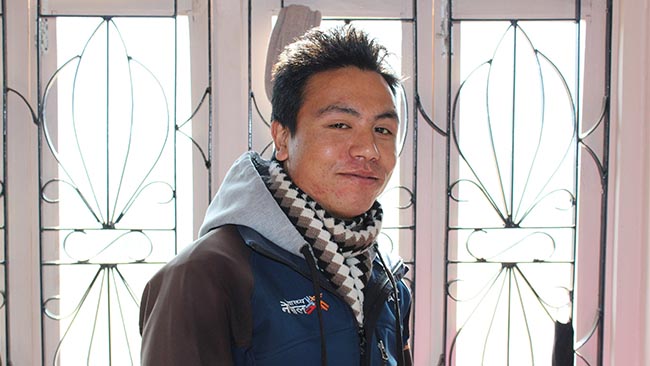 Suman is 24 years old from Kogate village and has worked with ARP as an interpreter for 3 years.  He finished high school and completed one year of a Bachelor in Humanities before dropping out due to financial difficulties.  Suman tried out for a job to work as a government worker but was unsuccessful, so he helped his parents in the fields to plant, harvest, and carry heavy loads of firewood. He was considering applying for work abroad when he met Tsering, the coordinator for ARP, who at the time was staying with Suman's family while looking for a place to set up the clinic. Seeing his potential, Tsering encouraged him to try out as an interpreter for ARP. Suman had long dreamed of becoming a social worker, hoping to give back to his community. He sat and passed the interview and went on to complete the interpreter training. 
From having no idea of what acupuncture was, and no experience in healthcare, Suman was initially very nervous but has become one of our most competent interpreters. He has really enjoyed being an interpreter and watching people's health get better with acupuncture. He decided to try out for the scholarship to study acupuncture this year. He expresses that he is very grateful and that if it weren't for ARP believing in him, he wouldn't be where he is today.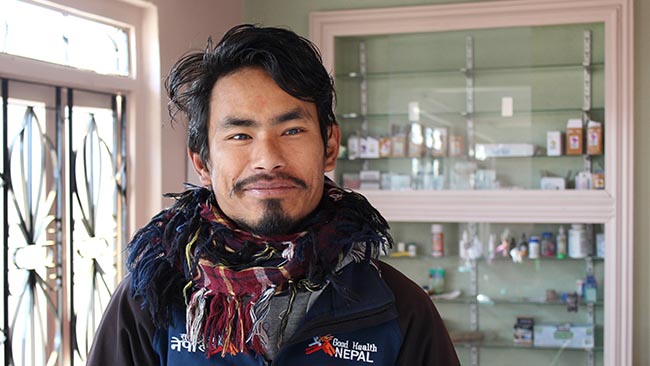 Bibek L. is 27 years old and from Hetauda village.  He previously worked as an assistant electrician but was finding it hard to survive financially. Three years ago, he was on his way to Kathmandu for an interview to work in the Middle East when he bumped into his friend Suman, who told him about the opportunity to train as an interpreter with ARP.  He immediately took a detour to the ARP interview and has not looked back since. He also hopes he can study acupuncture in college mid this year. As currently ARP is operating for 6 months in a year, he finds being jobless for the other 6 months very difficult. He said, 'if I get the chance, I want to be an acupuncturist, not just an acupuncturist but a very good acupuncturist!'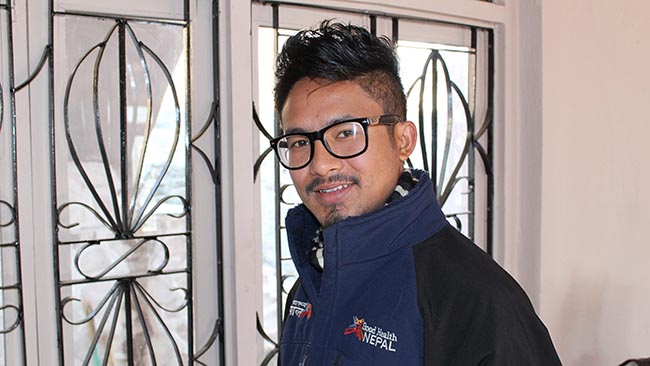 Pawan is 22 years old from Kogate village and has been interpreting with ARP for 1 year. He moved in to live with his grandparents after his parents separated when he was 16.  Having no monetary support to continue his education, he dropped out after studying one year of a Bachelor of Science. One year ago he was given the opportunity to be an interpreter for ARP. He wanted to study acupuncture in college but because he didn't graduate from a government school, he wasn't eligible to apply for a scholarship. The three year acupuncture course costs approximately $4,000USD not including living expenses, and this for most Nepalese youth who have no financial support, is unaffordable.  During the 6 months when ARP is not operating, he would go back to his village to work in the fields, cut grass and carry heavy loads of firewood. After this camp ends, he said he might have to work in Dubai for 2 years to save some money. When I asked him what he would do there, he said, 'maybe work in a supermarket...' which is a pity as with his talent and skills he could do very well in Nepal if only he is given the opportunity. He loves playing the guitar, and during our meal breaks, provides us with music and entertainment.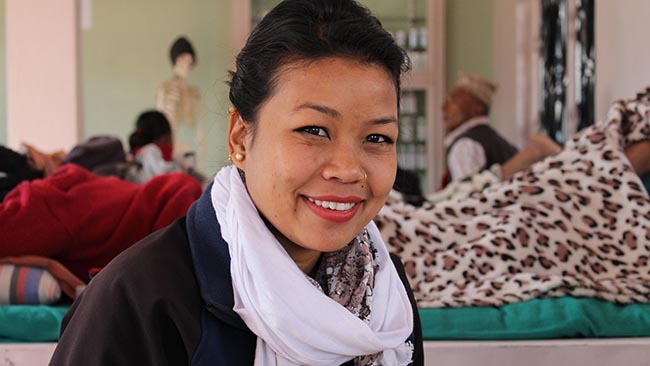 Jesica is 23 years old from Bhimphedi. After seeing how much acupuncture could help her community and the fulfillment her brother found from working as an interpreter, Jesica decided to follow in his footsteps, joining ARP 2 years ago. Prior to that she was working as an accountant for a brick factory that operated seasonally and was closed during the monsoon season. Not only is she a brilliant interpreter, but her head for business makes her an excellent organizer, keeping everyone in line.  She changed her career and also decided to study in acupuncture school this year.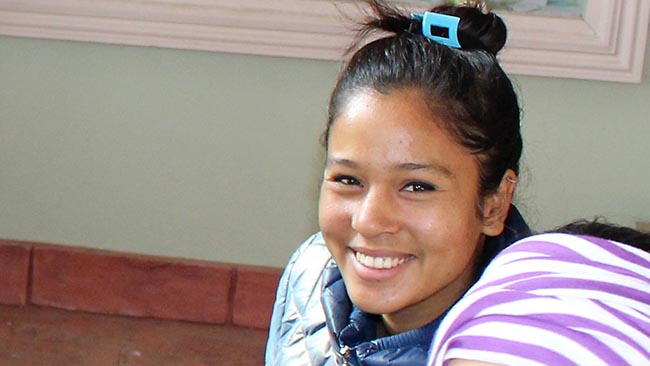 Rupa is 19 years old, a third year acupuncture student from Kapan. Initially she had passed the entrance exam for nursing but her father got admitted into hospital for lung cancer and she missed out on the opportunity. Then she heard about the new acupuncture course and with a hunger for knowledge she decided to enrol in it. In April last year, her whole house collapsed during the big earthquake and her elder sister was trapped under the rubble unconscious. Being injured herself with bleeding hands, knees and head, Rupa dug for 40 mins to get her sister out. She had no shoes to wear for days and couldn't get to the hospital to visit her sister and father as it was three hours away and there was a transport strike. Since then, there is no one in the family who could financially support her as dad is in hospital undergoing chemotherapy and her sister is still recovering from the quake. She has no money to even buy textbooks. The acupuncture course is rather new in Nepal and there's no practical component, so students know only the theory but don't have experience in needling. ARP approached the college and affiliated with them by allowing final year students to observe and train in our clinic. Rupa said since she has been able to observe in our clinic and help with interpreting, everything she has learnt in college started making sense. She is so eager to learn and after seeing the positive changes our clinic is making on people's lives, she found herself evermore passionate about acupuncture.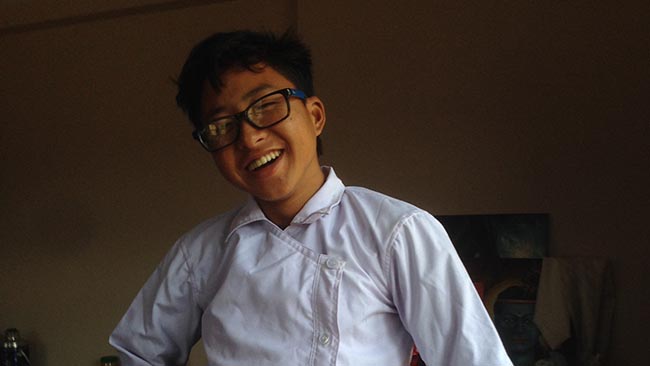 Bibek M. is 20 years old from Kogate village and has been working for ARP as a cook for 6 months, making sure all the practitioners and interpreters get fed. Before joining ARP, he was exploited and worked long hours (from 6am to 2am the next day) in a guesthouse earning only $20USD per month.  He had also worked as a labourer loading construction materials such as bricks and sand onto trucks. Due to the physical stress of his jobs which aggravated his hip problem from a childhood injury, he had to take a break and return to his village. As his parents were elderly, and all his brothers had left home early, he was the only one left to work on the fields. From plowing the fields with an ox, he had multiple infected skin wounds left untreated. At the time, ARP was operating a camp in Kogate village where he sought health care for four months and got significantly better.  Later ARP offered him the position as the cook for our camps.  Bibek said working with ARP for the past 6 months has been a great learning experience.  He got to meet and become friends with practitioners from different parts of the world.  As he dropped out of school in 7th grade, his English language skills are limited. His goal is that by next fall he can be fluent enough in English to be part of our conversations. Every evening I would spend some time teaching him simple English phrases and in exchange he taught me beats on the madal drum. Bibek says he can now finally support himself financially, and hopes that he could earn enough to support his family and one day get married.  After this camp ends, he intends to study a cooking course for 3 months in Kathmandu. 
As the clinic only runs for six months a year, the chef and the interpreters are all on short term contracts and staying afloat both financially and motivationally is incredibly difficult. Their only real option is to spend the intervening six months at home with their families or look for work abroad, a commitment that might prevent them from returning to work for the next camps.  All 4 of the interpreters are extremely keen to study acupuncture and would make incredible practitioners, but whist the tuition of $4,000USD for three years seems like a bargain to us, it is out of reach for our friends, and that is before you factor in living expenses.  
We may feel sad listening to their stories, but these young people are happier than many of us in the first world who have more than what they could imagine because they are passionate about what they do and they really want to contribute to society. Watching them happily singing folk songs and playing the madal drum on the bus ride to and from a picnic, I thought to myself that they really have no idea how amazing they are.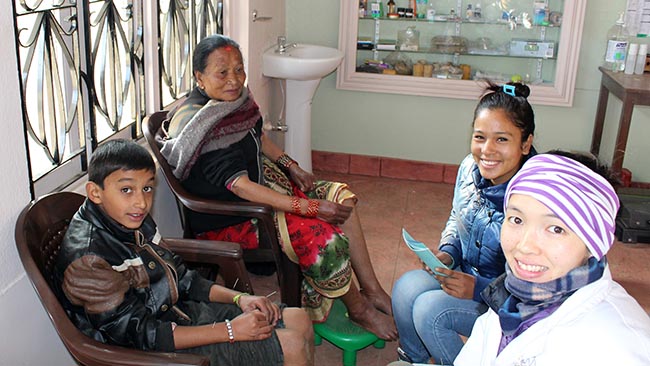 Why am I doing this again? To witness and experience firsthand economic inequality, the problems associated with the disparity between the rich and extreme poor. To not ignore suffering and see the world for what it really is in order to propel me to create something of long lasting value for humanity so that our children can live in a better world for the future. As the Native American saying goes, 'we don't inherit the earth from our ancestors, we borrow it from our children.'  I am grateful to all those who have made it possible for me to be a part of this project and hope that they realise how much their contribution means not only to the livelihood of these young people but also in keeping their dreams alive. ARP's goal is to be able to run not only for 6 months but all year round, which will not only benefit the patients but also help reduce unemployment by providing full time jobs to the locals such as the opportunity for the acupuncturist students to be employed as local practitioners when they graduate, giving unprivileged youth who are full of potential the opportunity to shine. ---Rachel Chang