Today I treated 17 patients. It is my first treatment day in the village of Bajrabarahi, in Nepal, working side by side with fellow acupuncturists from around the globe, brought together by the Acupuncture Relief Project.
I knew that the local villagers would be lovely and friendly people; I was told that they have a hard life and do not complain, but are grateful for the treatment and care. I also knew that I would treat a variety of health issues beyond the usual scope of an acupuncturist trained in New Zealand. But what I did not expect was to see an eleven year old boy come with his mum, and to feel helpless to do something for him.
He has, what appears to be a large lipoma on the inner thigh of one of his legs. It is hard and heavy, and it weighs down his leg and affects his walking. I am told that he has seen a doctor who advised surgery. I am also told that the family cannot afford to pay for the surgery.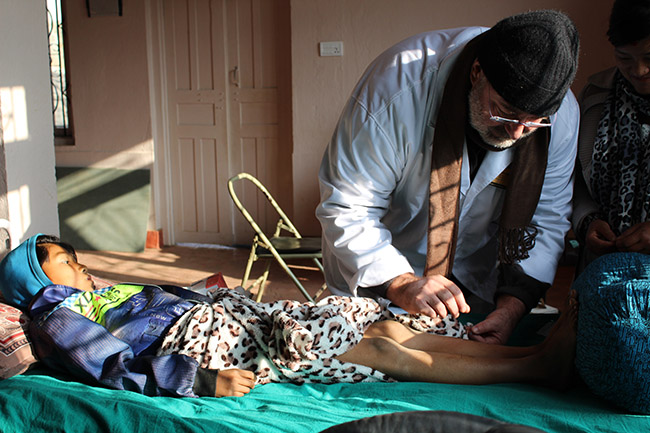 Even worse, I do not think that the surgery would solve his problem. The growth appears to have taken over the muscles and is probably intertwined with veins and nerves. I have seen a similar case before in an elderly relative at home;  a surgeon operated but it grew again, as not everything could be removed. Worse, it turned cancerous and the only further advice was amputation, as the growth increasingly cut off the blood supply to the lower leg. 
But this is an eleven year old boy and he has walked to the clinic to see me, hoping that I can do something for him. And I feel so helpless. I do some acupuncture points for pain and one of my colleagues gives him some Chinese herbs to take. 
I thank him for coming and tell him to come back in three days. As he leaves, he looks at me with a beaming smile on his face, happy with the care, and maybe relieved that the needles are out. And his shy smile makes me realise that the most important thing I did for him today was that I cared for him and that I showed him that I cared. But what he gave me in return was far more important; it was his trust in sharing his burden with me and in allowing me to treat him and to do the best I could for him. This little boy taught me not to feel sad for him, but to accept my own limitations, and to appreciate the connection that we all share as human beings. --- Andre Capiez