I knew I wanted to volunteer with the ARP when I first heard of it four years ago, during my first year of acupuncture school. Now, sitting in my guest house in Kathmandu with dogs barking and gentle Nepali conversation drifting in through the window, it's sinking in that I've fully realized that intention. I've spent more than six weeks treating patients in rural Nepal, doing my best to help however I could manage. 
Earlier today I met a man named Rajesh playing guitar in front of his friend's collectibles shop, and I ended up hanging out there for hours. Turns out he grew up near Kogate, the small village where Rachael and I ran our free clinic, and he told me how happy he was that I'd been volunteering to help people in his hometown. I told him I felt grateful to be there, far from the bustling noise and bad air of Kathmandu, where I could get a glimpse into the heart of Nepal. Most of Nepal is as rural as Kogate, and I feel lucky that I could live in such a small but beautiful community.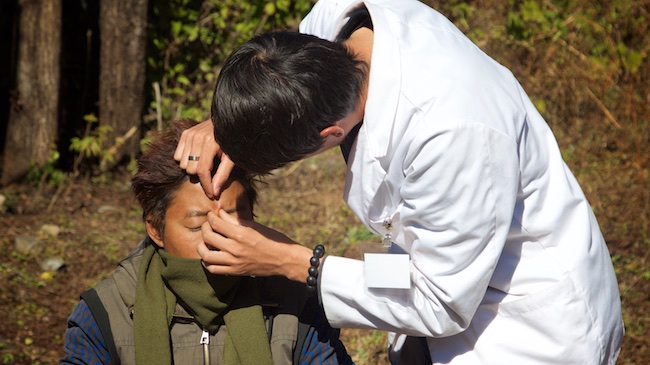 Most of the team stayed at a town called Bimphedi, which itself is hours away from Kathmandu. Kogate is about a three hour hike up the hill above that. Although Bimphedi seemed tiny when I first arrived there, its few dozen shops and paved main road made it feel like the city after my first week in Kogate. There no roads are paved, and the only traffic besides the occasional motorcycle is a rickety bus called the Himali Tiger that makes its slow, bumpy way up and down the mountain once a day most days of the week. Even this luxury is relatively new: there was no bus service about seven years ago. One patient shared the story of when his wife hurt her knee badly enough to require surgery. He and his neighbor had to carry her down the mountain to Bimphedi to catch a bus to the nearest hospital in a town called Hetauda. At that time, any supplies from Bimphedi also had to be carried. 
Rachael and I stayed at the end of the bus line with the parents of one of our interpreters, Suman. They asked us to call them Ama and Buwa (mother and father), and they welcomed us into their home like family. We shared their same food, and our only extra luxuries besides what we brought were an electric kettle and a filter for the water from the outdoor faucet. Even electricity is relatively new to Kogate, set up within the last couple years, and Suman told me that the village didn't change all that much as a result. Mamta, his sister in law and our other interpreter, also stayed with us, and our receptionist, Lanka, met us each morning after an hour's walk from her home down the hill.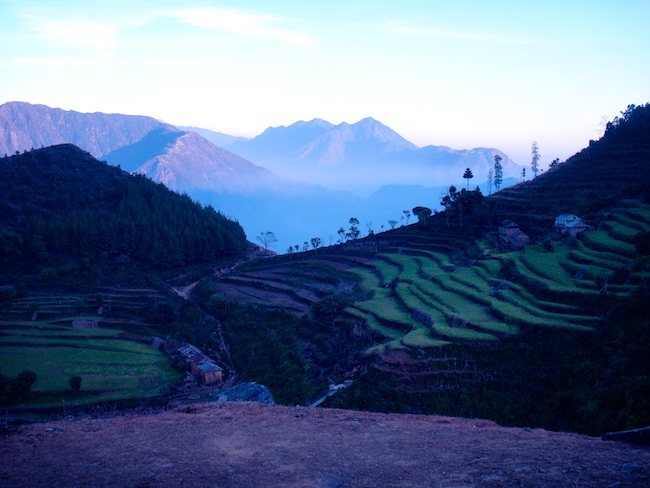 During our stay, Rachael and I slowly became recognized community members. We'd meet our patients and their relatives on our walks to and from the clinic and exchange enthusiastic Namaste's with schoolchildren. I played soccer with the boys who hung out near the clinic, and kids often watched our treatments from the stone wall that surrounded our clinic. One of my most regular patients was also Suman's good friend, and we hung out together outside of the clinic. I taught Suman a little tai chi and had a blast teaching them both to juggle. Rachael did a great job memorizing all of her patient's names and began to recognize which of her patients were related. We'd see one patient herding his buffalo and another her goats near the clinic. Even our bus driver came in for one treatment. We were much less busy than the Bimphedi clinic, which served many patients that came from many hours away, but almost all of our patients knew one other as members of the same community.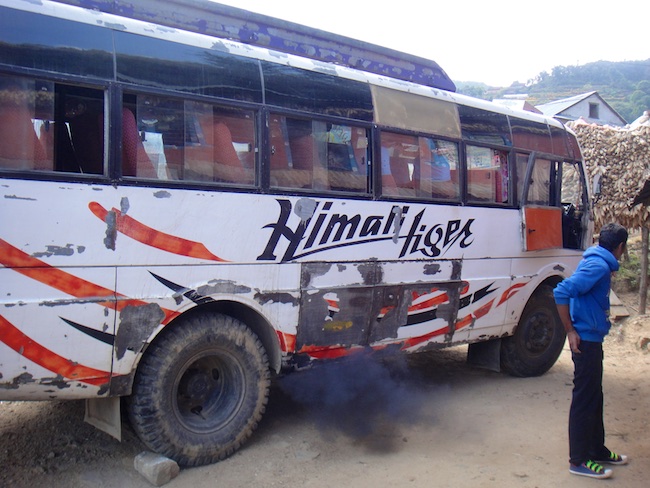 On the second to last day of clinic I got a new patient who was visiting his daughter in Kogate from a more remote place. He has an enormous lemon-sized cyst under his right tricep compressing the nerves in his arm, causing pain down his hand and reduced motor function. He had gone in for surgery three years ago, but after draining fluid from the cyst, it swelled up again, becoming larger and more painful. He came back the next week, and he told me that at that point they wanted to amputate his entire right arm, which he refused. (I'm hoping this was a miscommunication, and that they meant to explain that completely removing the cyst would cause nerve damage in his arm that may then lead to such deterioration as would need amputation.) He also has knee pain, and when rolling his pant legs up for the acupuncture I saw severe psoriasis on his right foot, which he scratched to the point of creating sores that were open and bleeding. 
This patient really drove home the issue of access to me. His hometown was a 2-3 day journey away, so it was impractical to refer him for treatment during the next camp in Bimphedi. The two treatments he would get from me would be all the care he was likely to get, and I knew there was only a little I could do. I explained that I couldn't help decrease the size of the cyst, but we would try for some temporary pain relief for his arm and his knees, and I bandaged the open wounds on his psoriasis. He understood and wasn't upset. He said he didn't mind because could hide the cyst from sight under his jacket and the pain was managable if he was careful not to bump it, and the psoriasis he'd had since childhood. At his second treatment he at first reported "no change," but went on to say that he'd had no arm pain at all the previous night and had noticed that his knee pain was less. I know this relief will be temporary, but it's something.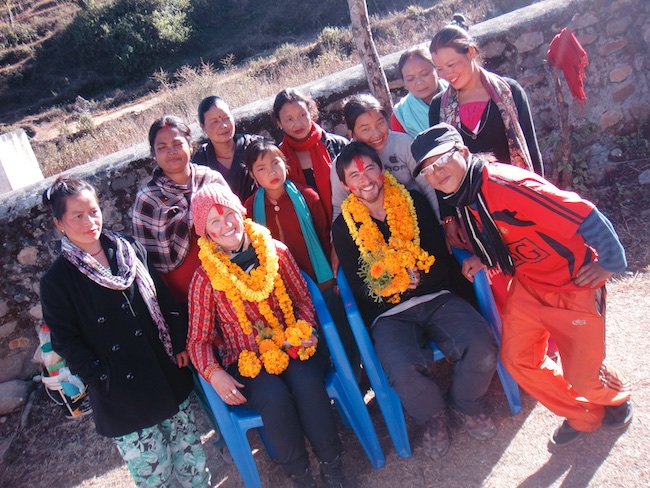 On a larger level, I worry that our time in Kogate likewise provided only temporary relief for long term problems that we can't fix, problems that boil down to a lack of adequate health care access. Over the next two months, the smaller number of volunteers for the colder season means that the ARP can only be there once a week instead of five days a week, and because of the lower patient numbers, I don't know if the ARP can sustain a clinic there long term. The volunteers' time could be better used in a busier clinic, and Kogate is already closer to the Bimphedi clinic than the hometowns of many of its current patients. But after being welcomed so warmly it was hard to leave not knowing how much continued care our patients would receive in the future.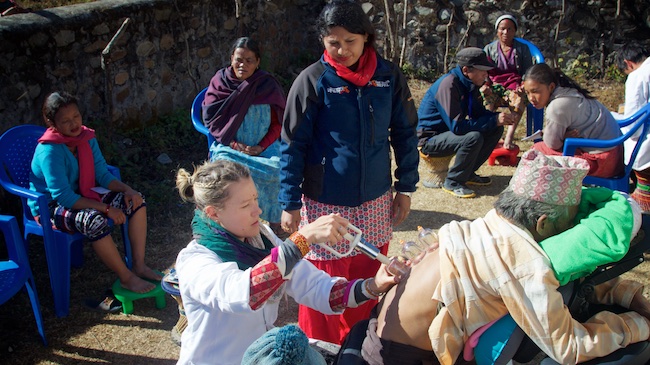 Now that my time there is done, I have to take comfort in knowing that we did what we could, and for better or worse, all our actions there have created ripples. People came in for anything and everything, including cuts that needed bandaging, common colds, rashes, sore backs and knees, headaches, and gastritis, and we did what we could to help whether or not acupuncture and herbal medicine were indicated. We used whatever we had: pain patches, moxibustion, massage oil, eyewash, anti-itch cream, cough drops, and ibuprofen – anything appropriate. Rachael even used a few candles and layers of acu-tape to even out the handles on the crutches of one of her patients to help his structural imbalance. And although we've left already, for a time at least we were there and genuinely willing to listen and help, a sentiment often missing in local hospitals. (The woman who was carried down the hill for a knee surgery, for example, came back with her knee cap sewn back on too far up, in spite of her husband's unheard attempts to object while watching the surgery.) One of our friendliest and most talkative patients, who enthused that our treatments gave him "a new life," told us he thinks a big part of his improvement was due to our kindness and smiles. And on our last day, we were overwhelmed by the handmade necklaces and bouquets of the fragrant orange flowers our patients brought us to wish us a safe journey home.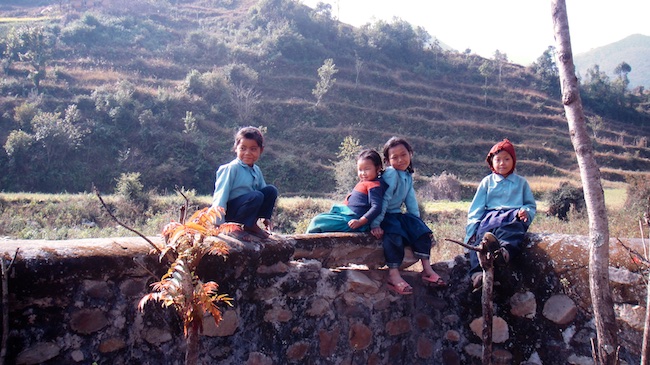 I know my experience in Nepal will have ripples in me as well. In the face of different complaints and fewer resources, I found myself doing such doctor-like activities as dressing wounds, taking blood pressure, monitoring blood glucose, taking temperatures, looking down throats with a tongue depressor and penlight, and examining painful eyeballs for irritants. This experience, in addition to the practice with acupuncture and herbs, will help me give better and more complete care to my future patients. I've also come away with the realization that people aren't so different all around the world, and that I didn't necessarily need to travel halfway across it to find folks who need more or better medical care, particularly in rural areas. Regardless, I will miss my Nepali patients and friends, and if whatever community I find in the US can spare me for long enough, I hope to return to Nepal to come see them. - Eliot Sitt
Project Director's note: Don't worry about Kogate. It is a village very near to our hearts and we will continue to support it as we develop our sustainability plans in Makawanpur.  In fact, I hope to retire there one day.... I have my hilltop all picked out. -Andrew Schlabach