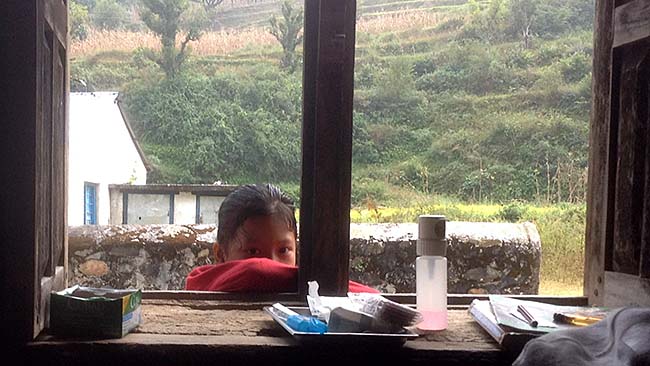 Well, I said that Nepal was going to be a life changing experience and it has been in so many ways.
Lazy Cogitation
I came to Nepal as a newly graduated Practitioner from a Chinese Oriental Medical School in Portland, OR, with all sorts of images and cogitations of what life would be like in Nepal. I thought about the many people that I would have the opportunity to treat and all of the new treatments I would learn about as they arose. The only thing that has come out of what I now call Lazy cogitation (trying to foretell what will happen), is that I'm in Nepal. I've been confronted with many medical situations in which I had no idea what to do, and I use the Nepali term "K Garne" (What to do?) often. With no internet, it is very difficult at times to figure out what possible syndrome(s) some of my patients have. I return to the basics of the eight principles in Oriental medicine and work from there. I see many orthopedic cases, lower back pain, knee pain and different dermatological cases I previously had no experience with.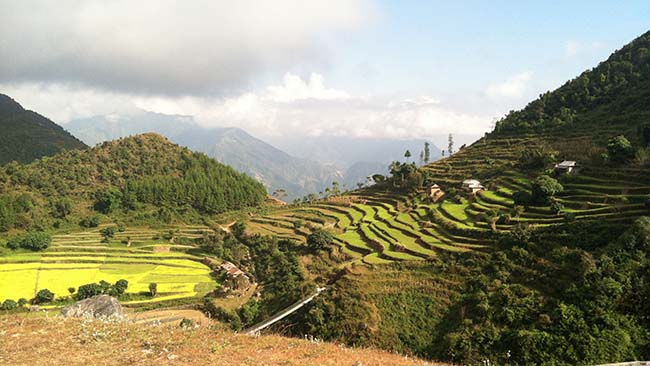 From Practitioner to A Kinder Spirit
Kogate is a rural, agricultural community that I have had the pleasure of living and serving in while here in Nepal and many of the village's people have reached out and touched my life. Being immersed into this community, changes have begun to occur within me. They have invited me into their homes to share their meals, celebrate holidays, dance to their local music, sing some of their songs, drink the local home brew and just enjoy life with them. I have begun to realize that a transformation is beginning to occur; I am smiling now more often then not. Laughter is becoming something that occurs even more often now. I am still the white medical person, but they welcome me into their community with open arms and laugh with me as I try to speak the Nepali language. As they come into the clinic we now have another connection between us besides the treatment time; we have celebrated other times amongst one another.
Namaste, a greeting, has become even more meaningful as smiles are exchanged between us as we pass one another along the road or as we greet one another in the clinic before I begin their treatment. The little children of the area are so wonderful. Always coming up to the window in my treatment room and watching what is going on. As I walk up to the house that I live at, four or five of the children that live at the bottom of the hill will clasp their hands together and say Namaste with a smile and a laugh.
A very precious moment occurred one day as I was walking back up the mountain from the lower camp clinic to the clinic in Kogate. A group of school age children were walking in front of us. They were mostly girls ranging in age from 9-13 years, and one little boy maybe 8 or 9 years old. He started to walk next to me for a time. As we traveled up the hill together we played a little game. I would start to run a bit and he would chase/race along side of me. We played like this as we traveled further up the mountain. I thought to myself, does he need to turn around and head to his house? It's not uncommon to see the children playing or walking along the mountain roads or trails. Reason being many of them have a long walk to school. Alman and I just continued up the mountain and I figured he knew what he was doing. I had my headphones on listening to music ( a 3 1/2 hour hike goes easier with tunes) so I took them off and put them on him to see what he would do. He smiled, moved his head back-and-forth and we continued up the mountain. All of a sudden a group of little guys joined us and began to ask me all sorts of question in Nepali. All of a sudden, Alman grasped my hand with his hand. He wasn't going to let anyone else in between him and I. We walked this way for the rest of the time, then a trail branched off and he went his way and I went mine. The following week as I traveled back up to Kogate ( we had to go down to the lower main camp every weekend), I saw a group of little guys sitting on a big rock. Almon was one of the boys and as soon as we recognized one another, he jumped down from the rock and ran up to me, grabbed my hand and walked with me up the road again for awhile. This time I had to branch off to take one of the short cuts so we waved good bye. Our third meeting occurred as I was walking down from Kogate. An older man and young boy were walking up and soon I realized that it was Almon. As we passed each other he reached out and grasped my hand. I have three more times to travel that route between camps. I hope I will be able to meet up with Almon again.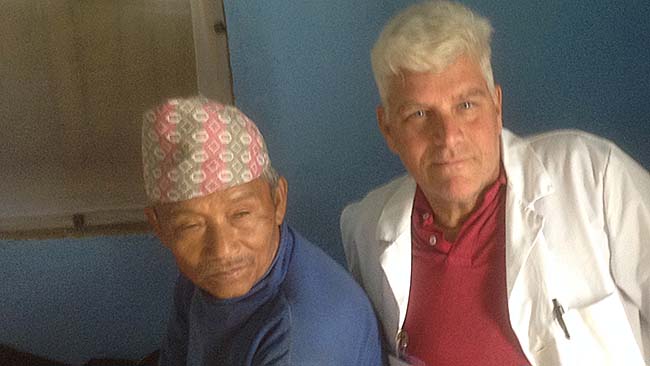 Brothers
The two young gentlemen, Suman and Bibek, are our translators. I could go on for hours talking about these two outstanding men. They are always looking for ways to help me in every aspect of life. They have taught me what true selflessness really looks like. We spend a lot of time together. We walk to clinic 4 times a day. We walk on mountain goat trails in the day and night. We eat meals together, sit and look up at the stars and laugh until tears come to our eyes. I tell them they are good friends. Their reply is always, "No! We are brothers!" As time has passed, friends of Suman and Bibek have joined us. Powan, another Suman and Bibek would spend the evening talking and laughing with us. I couldn't understand what they were talking about many times, but it didn't matter. We were enjoying life. Often, either Suman or Bibek would translate what was being said either by the young men to me in English or what I was saying to the young men in Nepali. The range of these two men's capabilities continuously amazes me. Their use of English is outstanding, having to translate the many questions we ask our patients during a treatment as well as in everyday conversation. They carry with them a small notebook that if a word comes up in our conversation that they didn't know they write it down.
As my departure date draws nearer and we sit in the night air at the top of the hill, I comment on how leaving is bitter/sweet. Bitter because I was leaving all of Kogate, the view over the village houses and fields and the people. But sweet in that I would be reunited with my dearest friend and love, Susan, my wife, and my two sons, Bryce and Forrest, and Hava, my new daughter-in-law. Suman looked at me and said "We will be your shadows." Bibek said, "You are in our hearts. You will never be far from us." Bibek explained that there are two kinds of shadows, good and bad. The good shadows live within the heart of the person. The bad shadows live within the head of the person.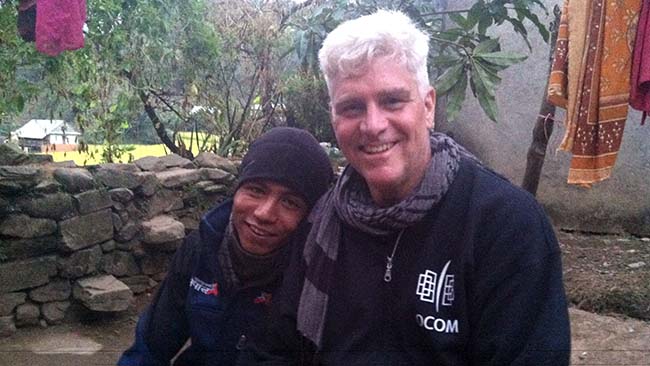 Becoming part of the family
Not only had I become Suman's and Bibek's Di (older brother), but I have been accepted into Suman's family. Durning one of the five days of the Tihar holiday celebrations, one of the sisters in the family honors their brother by making a wreath of different flowers which they place around the brothers neck. They then place a red tika and seven different colored dots upon the red tika. Then they bring out a huge plate, which is made out of leaves, filled with many different types of foods and treats and place it in front of their brother. On that day the lower camp came up to Kogate for the weekend so they could see the village. We had had a class and were standing around when Suman came out of his house, having already gone through the honoring celebration by his oldest sister, and asked me to come into the house. The family was sitting around the room and there was a mat on the floor at one side. It was covered with flower pedals. They instructed me to go and sit on the mat. Then his oldest sister came and did the brother-honoring observance; placing a flower wreath around my neck, applying the red tika on my forehead and the seven colored dots on top of the red tika. Then I was instructed to place a red tika dot over the ones that Suman had placed on her forehead. Suman, his oldest sister's son and myself sat in another area of the big room and the specially prepared plate of food was placed in front of each of us. It was a joy and honor to have been invited to be apart of this family's observance.
Suman's father andmother are my gracious host and hostess and now friends/family. They prepare all of our meals for us, make us hot tea each morning and share their lives with us. At times, we are invited into their home for dinner. The food is delicious. All the cooking is done on a mud-form cook stove, branches are fed into an opening at the bottom to the fire. This gives the food a smoky delightful flavoring. The food is generally the same for each meal: one hard- boiled egg for breakfast with beans, which I would put my egg into. Lunch and dinner consist of rice, with either greens or a chopped up potato in a curry sauce and a pickled salsa or radish mixture. I thought I would get tried of eating the same thing each day but I haven't. In fact, between walking down to the clinic and then back up the hill to the house for meals, I have lost close to 20 lbs. Nepali meals are spicy, at least for me they are. I have had to get used to my mouth and lips being hot which really hasn't been too difficult to do!
They ask me questions about America and my life there. Suman's mother wants to come back to America with me, saying that she would cook all of Susan's and my meals. I told her that I feel America is not the place for her; that life here in Kogate is better. Life here is very hard but it is simpler. Not the rushing around, all the different ways in which one is pulled. When I ask my patients if they have a lot of stress in their life, they just look at me with an uncertainty. They don't know what stress is. They live each day and moment as it comes, taking whatever is before them as it is. At least this is how it seems to me. They don't understand the word stress. Sorry...a little rabbit trail.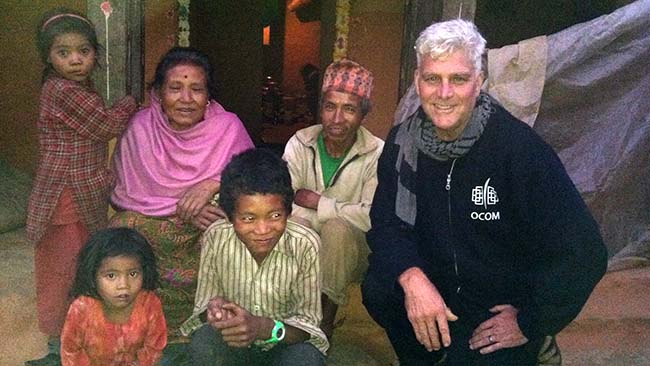 Life in Kogate is hard but it has so many other things that make it a wonderful place to live. Here, you live each day as it arrives and do what needs to be done at a nice slow steady pace. Nobody telling you what to do, to hurry up. You do the job and if you need to stop, you stop. I tell her that life in Kogate is good.
Life in Kogote is like stepping back into American history, in that it is basic. Its simpler life is what has been a part of the transformation that has and will continue to change me.
Life in Kogate is GOOD!
If you would like to sit with me and have a cup of tea I will talk with you about the fullness that is now a part of who I am because of this life-changing experience.
To all of you who made it possible for me to come to Nepal and the people of Kogate, I THANK YOU from my heart. --- John Timm Jr.