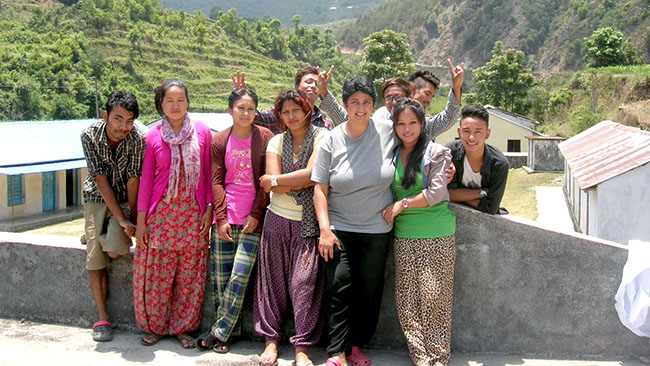 My trip to Nepal was an amazing life experience with many shared gifts. I feel like I have been challenged and grown enormously in my skills as a teacher and community facilitator. I went to Nepal for 3 weeks to teach the beginnings of a much larger acupuncture course. My students were the translators who work for ARP. To make the training more practical, I combined mindful body awareness practices with acupuncture theory and point location. The community also asked me to inform them on high blood pressure. To address this request, I worked with our students to put together a play called 'Blood Pressure, the Stranger in our Village'. We went with this title because strangers are regarded as mysterious and untrustworthy in the village. They may hide in the jungle and disguise their footprints. Blood pressure is a little like this as it creeps up on you, and often we don't know why it's there. This play uncovers some of the issues that affect blood pressure in the community, and how the community can take responsibility for it. The play got amazing feedback with people wanting a longer and bigger outdoor production. Over 100 people came with families walking for 1 hour or more to see our play. All the students worked really hard and after hours to pull this play together in a short period of time. I saw each one of them meet challenges and grow. It was very rewarding for all of us.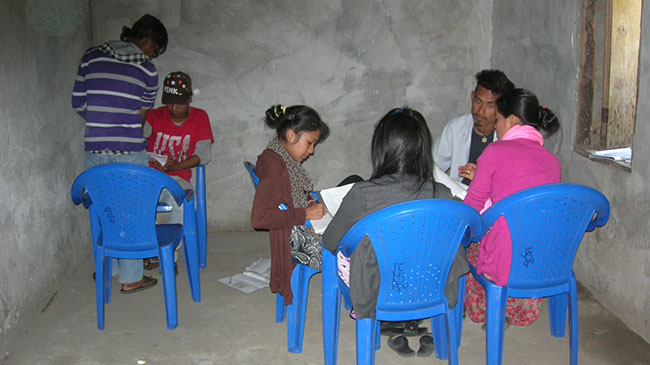 I was able to benefit the community through teaching the translation team the beginnings of a longer acupuncture course. Many of them indicated an enthusiasm to continue with their studies. I and they believe it is possible for them to become acupuncturists for their community. The team as a whole took on a greater responsibility to gain experience in community health education. Their roles as translators has grown into acupuncture student and health educators. The community also received a play about themselves and witnessed a better health potential for their lives. This is a great material resource for the Acupuncture Relief Project.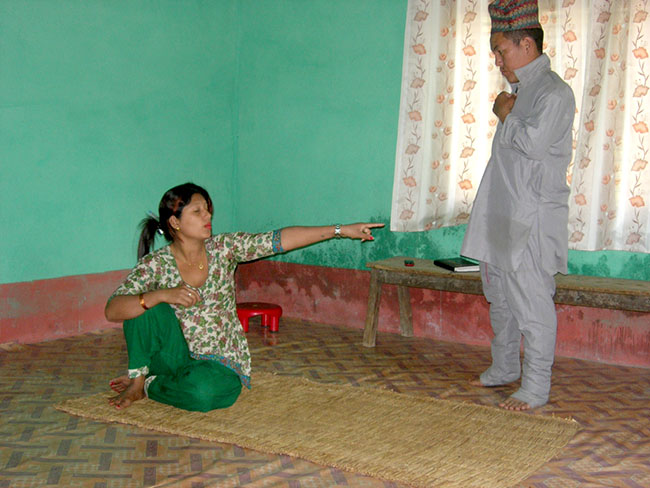 I too feel that I have grown enormously as a person. Throughout my time away, I had a sense of feeling at home in myself. For the first time in my life I had a sense of feeling settled and kind of 'natural'. I'm a little shy to even talk about it, but I'm relishing the feeling. I felt so welcomed in Nepal, with people open to what I have to offer. It really brought out the best in me. I've always felt like I have such a mixed bag of skills that don't quite join up. An acupuncturist, a painter with playback theatre skills, a light footed bush walker, and a Process Work student. Strangely, all these things came together with ease in Nepal. The most exhilarating thing was when I would suggest things to people and they would say 'why not!' I'm adopting the 'why not!' attitude for myself. I realise that knowing people from other walks of life allows me to see some of my self imposed limitations and engaging with this community has opened up potentials I was barely aware of. I glimpsed what is possible when all of my skills work together. It was surprising to me and I know there is more to come.
I have put together a 15 minute video of our play. It will give you a feeling of the atmosphere on the day. I also worked closely with Tsering Sangpo Sherpa on a translation of the play. It's included below and well worth a read. Thank you dear reader for sharing this journey with me. --Lynn Lobo