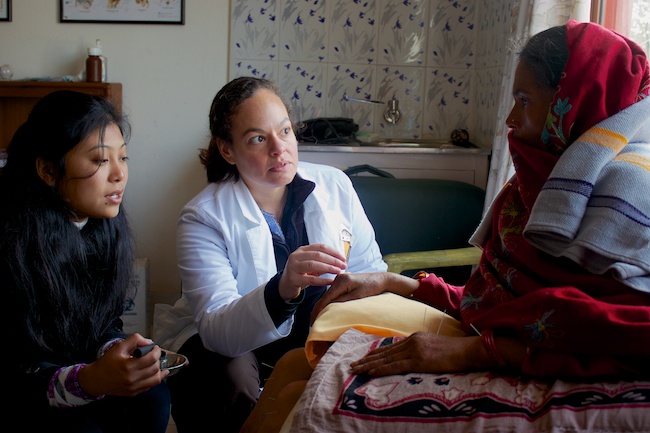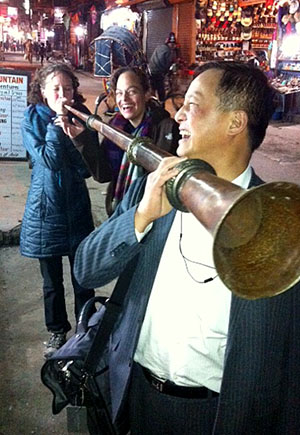 It's pouring down rain outside. The other practitioners and I have just returned from what should have been a 30 minute taxi ride but which turned into a 90 minute escapade through the streets of Kathmandu.  I myself am relieved to be back at the clinic and thankful that it is Saturday night, which means tomorrow is a half day. I definitely will be sleeping in!  My roommate, Lindsey, and I have just completed a 3 week course with a local Tibetan healer on how to perform treatments with singing bowls.  This has left me partially elated, and partially exhausted.  It's been 3 weeks since I had a full day to myself.
Eagerly I change from my soaking wet jeans and layer on two pairs of fleece pants, a wool shirt, hat, gloves, and socks in preparation for bed, even though it's only 7pm.  Do I really want to go to bed?  I ask myself.  It's hard to believe there are less than two weeks left of clinic which means I will be saying goodbye to all the clients I have grown to know, as well as all of the people whom I now consider a part of my team; the four other practitioners, six interpreters, the two housekeepers, Umila and Uma, and of course, Nicky the clinic director. I am definitely having one of those moments which can spark tears. I remind myself "I am strong, I won't cry.  Not when I still have almost two weeks left to enjoy it all."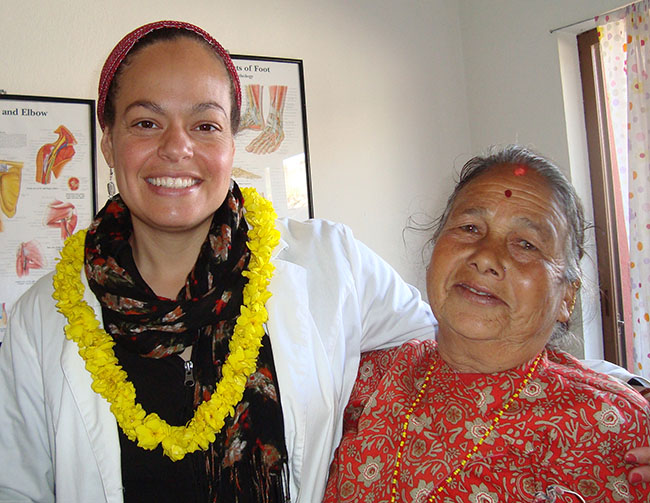 In the distance I can hear the other practitioners upstairs, decompressing from the day. Their voices are gently echoing through the halls, laughter interspersed between chatter.  I smile.  I know just what they are talking about...the taxi ride. As I inch on a second pair of socks to ensure my warmth I hear a loud drumming noise which perks me up, followed by a few trumpets, then more horns.  "What is that?"  I wonder.  I get up and walk to my window. Low and behold there is a parade coming down the narrow street below.  I open the window and poke my head out to see about 25 people dressed to the nines in bright colors...red, orange, blue and green...marching down the muddy road with instruments. At the tail end of this little party there is a grey car with marigold flowers streamed down the sides.  Five people are crammed inside the vehicle and since it's dark outside I can't make out any faces of the people inside it. One thing I am sure of-it's a wedding party!  "I wish I had better lighting!"  I slide my body further out the window in hopes of gaining a better view of the details which doesn't improve my vision in the least. Flashing my head lamp down below like a spot light is one thought which passes through my mind but thankfully my common sense stops me and I continue to hang out the window in awe, muttering under my breath, "Woooow".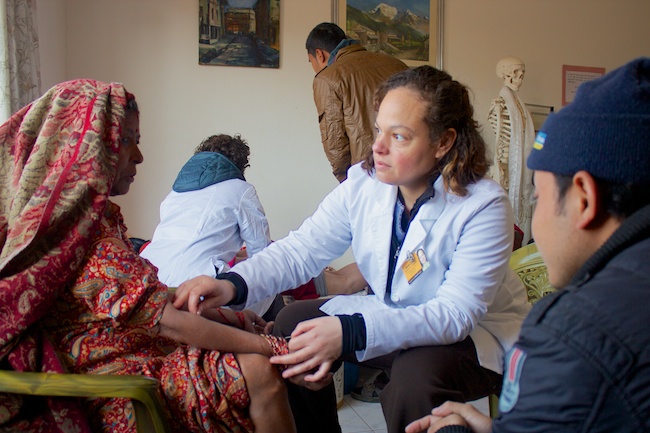 Heading upstairs to join the others suddenly sounds like a perfect idea so I add on one more layer, my black fleece jacket, and walk upstairs with a little bounce in my step. I head towards the door to the group room and see everyone sitting around the table with a tin cup in their hands. There is no electricity at this point in time so there are about five candles lit.  I choose the kitchen door first and see a two liter Mountain Dew bottle which I immediately know is filled with Rakshi, a local made rice wine.  I grab a tin coffee cup and pour myself a glass, well actually half a glass, this beverage is much stronger than it tastes I suddenly recall.  I then walk into the main room and sit to join the conversation which has now changed to musicals.  In the back of my mind all the events of the day are coming to the surface as well as this welling up of appreciation.  I find myself randomly calling out, "I love you guys!"  Everyone laughs.  "Are you buzzed already?"  They ask.  "No I just am having one of those moments and I have to tell you all  love you and I am going to miss you when I leave."   Finally one of the other practitioners, Joey, smiles back and says, "I love you too Jazz. Cheers to us!" --- Jasmin Jones