Kogate Clinic | Acupuncture Relief Project | Nepal from Andrew Schlabach on Vimeo.
Acupuncture Relief Project takes on its most challenging clinic project in the remote region of Kogate, Nepal. Project Director Andrew Schlabach outlines the clinic's vision and obstacles.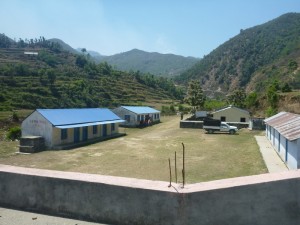 In 2013, Acupuncture Relief Project undertook a new clinic pilot project in the Kogate (Ko•Got•Tay) region of Nepal. This clinic was located about four hours south of Nepal's capital of Kathmandu in a region of unknown population (approximately 40,000). The Kogate clinic provided an inexpensive basic healthcare solution to the people of the region.
This clinic provided the only healthcare available in the region. Our volunteers transformed these few basic buildings into a primary care clinic and trained a handful of local people to be language interpreters and medical assistants.
This two-year pilot taught us much about what it takes to live and work in remote areas. It also served to solidify our relationship with the District Health Authorities in Makawanpur, the district in which lies Kogate. In 2015, the District Health Office asked us to relocate our clinic operations to the municipality of Bajra Barahi. While we are happy to be working in this new region, we will miss our friends in this quiet mountain village.