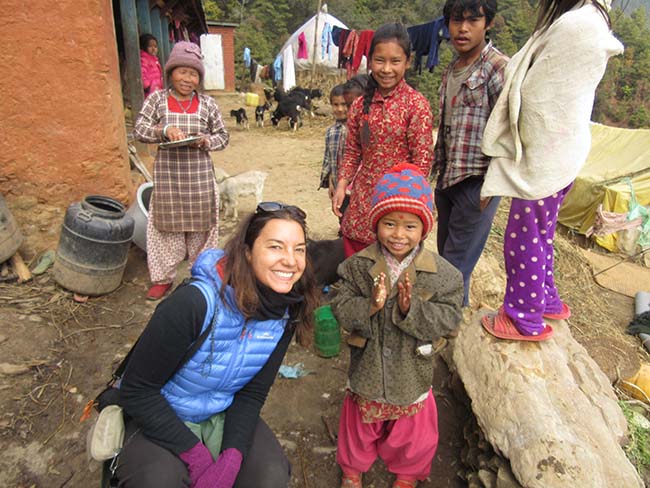 Nepal is a materially poor but culturally rich country. They are the warmest hearted, most generous and toughest people I have met. Truly a humbling experience to be immersed into their culture and their community for this period and to build this relationship with them.
Actually getting to the clinic we have set up in the village is simple, although perhaps not easy, many have to walk, a long way. There has been a fuel crisis in Nepal for the last 5 months, making it extremely challenging for people to be mobile by way of cars, bikes and buses. 
The acupuncture relief project is in the village of Bajra Barahi nestled in a valley within the Himalayas, about 36 (long and dusty) km's south of Kathmandu.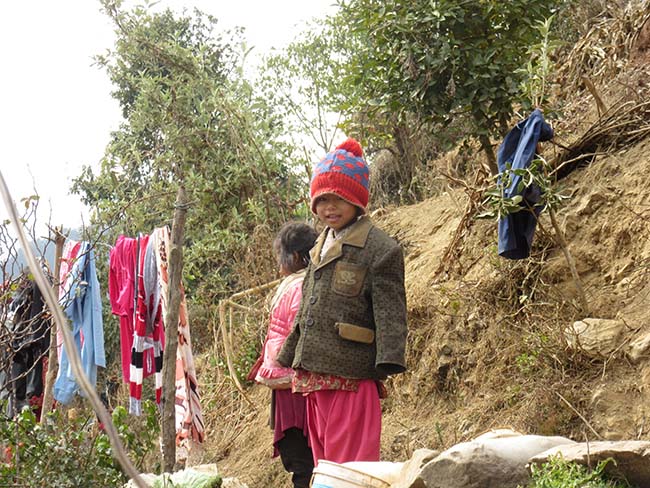 The surrounding villages are scattered around the hills and to reach the clinic. We see patients every day in the clinic that have walked anything from 1-4 hrs to come and see us at the clinic. They have to walk up rough dirt paths, up mountains paths, and across bridges and through the fields, no exaggeration.
I know because I have taken some of these walks during my days off. The walks were a fulfilling experience for a Saturday challenge, dressed up in my hiking gear and ready for adventure, not necessarily something I would want to undertake if I wanted to go and see the doctor about my painful osteo-arthritis on my knees from overwork, or my bad back!
This has really opened my eyes to so many aspects of life out here. 
Of course, for a start, most of us cannot really even imagine this a reality in our lives - that we would have no choice but to walk for up to 4 hours each way to visit the doctor! The fuel crisis has definitely added to this aspect of being here, however in my observation I feel that transportation is essentially still a huge luxury here regardless.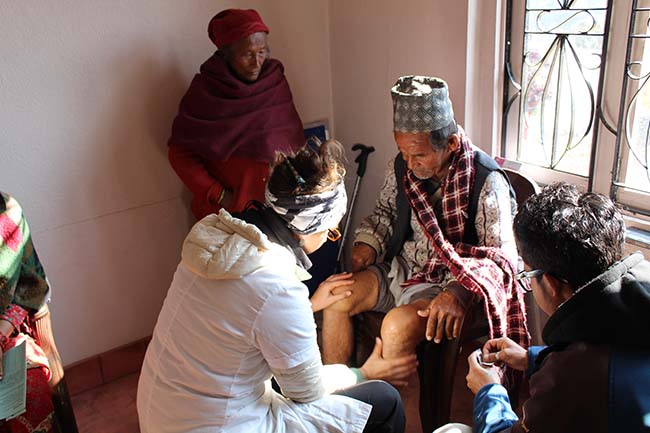 For me, it's fascinating coming from a world where there are so many  'cheap flights' across the globe and for some people are as easy as getting a bus, yet these local villagers don't even have local transport set up for essential needs, what a paradox world we live in. 
The majority of these patients are coming to see us for pain management of their knees and backs – and what with walking such distances to come for treatment seems a little counter productive sometimes. Unless of course this clinic is providing more then meets the eye, and they are coming for more reasons than the just pain in their knees, perhaps they are coming to simply be taken care of by someone, to be heard, to tell their story, which is undeniably a huge part of any healing process, and something of a revelation to most of the patients we see here. Most of these people have never spoken to anyone about their health complaints before, not even friends and family. Evidently complaining on any level is just not a part of their culture! I quote one of my patients - 'Until I came here I thought I was the only one with knee pain, now I see almost everyone suffers from it!' 
What a marvelous revelation to know she was not the only one who has this!!! 
Cars are still a rarity here in the villages, its hard to fully grasp if its always like this or the fuel crisis for the past 5 months has transported life back in time100 years, when fossil fuels were just not a part of life.  As we walk, we frequently come across men, women and children carrying the farm goods on their backs, in woven baskets with a strap around their head. It is no wonder that we see so many patients coming in for chronic pain management, degeneration of their knees and cervical compression giving widespread numbness and tingeing in their limbs.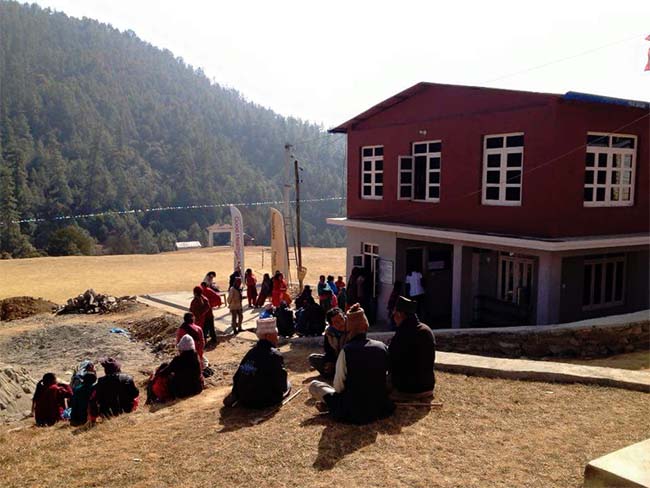 Nepal seems to live in an almost timeless space as well…(we often joke about things happening n Nepali time - meaning when it happens it happens!)
I do see the magic of not living by such regimented time…and simply being, something that we are al in search of in the western cultures, the simple art of being. 
Yet these people are living like this in their daily live. We have a busy clinic of approximately 100+ patients each day. All booked in to either come in the morning or the afternoon, no set times as this wouldn't make sense to them. So they turn up and wait outside gathering together in community for perhaps hours before they get into see us. Yet they are so content waiting, chatting, being in the sun, simply BEING, no iphones to play on, no kindles, no newspapers, no phone calls to distract themselves or keep themselves entertained, they simply are, simply let themselves be, what else to do, Perhaps they have the art of conversation that has been lost in the modernised and technology-led modern world. Wow such profound teachings to share with us all.
Another thing by which the Nepalese people have inspired me is their adaptability. Since there is limited fuel they don't have the gas for cooking, yet this is not an issue for the people here in the villages. 
After the earthquake in April 2015 most of the people in Nepal continued to live in the tents they built as shelter afterwards for some months, as either their homes were crumpled, or unsafe to live in, or they didn't feel safe being in them anymore with the continuing aftershocks. They got used to preparing wood fires again outside in the ground to cook their food. Now that the fuel crisis has limited the amount of gas that is available they are all continuing to use this ancient method of food preparation with ease.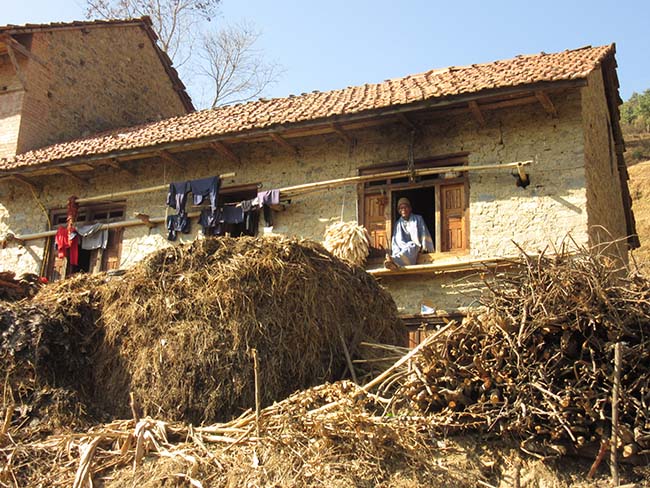 Our clinic is in the middle of a very rural farming town, where every house is like a little farm, with chickens, ducks, a couple of buffalo, some goats, drying corn hanging on the washing line next to the colourful clean laundry. 
Inside the houses, the picture is very similar with the downstairs consisting of a room that is literally full of potatoes, winter vegetables and possibly their prized water buffalo. 
Nepal is very cold in the winter, and it is felt here, as there is no heating, and no soothing hot water to thaw the bones out at the end of the day, conditions are very challenging to live in. 
The local villagers essentially live in sheds, they wash in the streets using a community tap to wash their dishes, their babies, their clothes, and yet these people are the happiest people I have ever met. Always smiling, enjoying the simple pleasures of life of just taking such pleasure in greeting each other with such enthusiasm with putting their hands in prayer position and singing Namaste to each passer by.
Children run free in the fields, playing with each other, the goats and simply just being care-free children…. It's evident that not having so much material possessions is also an incredible blessing to people. --- Zoe Nash