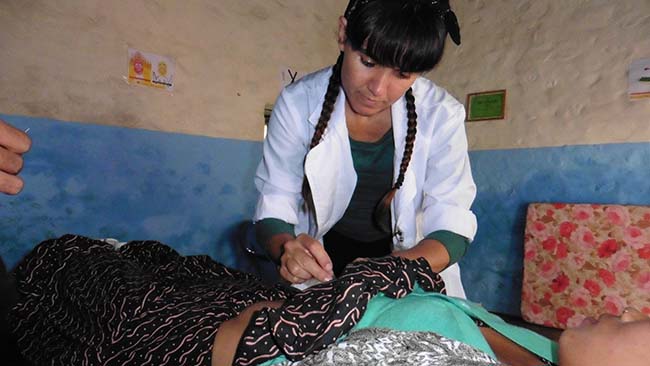 It's 4 AM and I can't sleep.  I'm thinking about how much I still need to get done before wrapping up my volunteer stint here in Bhimphedi, Nepal in 10 days.  I have to write this blog post and a publishable case study, which I still haven't picked out yet.  All this while treating a ton of patients 6 days per week and trying to spend time with the beautiful friends that I've made here.   I'm mad for letting myself get back to this state of unease and sad for the heavy loss I'm about to experience.  
Coming to Nepal, I assumed I would have a somewhat stressful and uncomfortable "third world" experience.  And when I first arrived, it took a while to adjust to the time change and environment.  I had terrible insomnia, bowel issues, breathing problems and I was anxious about starting my work in the clinic.  The first week in clinic was slightly overwhelming.  Although I only treated 7 people my very first day, I still felt frazzled.  I did not realize how serious the conditions would be that I would be expected to diagnose and treat.  I am definitely way more than an acupuncturist here.  I am a primary care doctor.  Im finally getting used to saying that and believing in my ability to be just that.  It is now not nearly as daunting to treat someone with a massive oozing non-healing sore, tonsillitis, uncontrolled hypertension, paralysis or diabetic neuropathies.  The possibility of someone coming in with tuberculosis, fungal infections and typhoid fever does not freak me out nearly as much anymore.  Just another day in the clinic.  
Even out of the clinic, I no longer feel like I have a chronic case of the cooties.  When I get bit by a mosquito, I no longer think "I hope I dont get malaria."  And when I see a piece of chicken poop, I dont necessarily think, "Is that a leech?"  I stopped using hand sanitizer every 5 seconds.  I dont guzzle grapeseed extract everyday either.  Maybe I won't actually contract a major disease here. Just maybe.  
It was the 7th day of clinic when I finally started to feel my rhythm.  I had a bunch of return patients that day, so the interpreters labeled it "Susana Day."  I was in awe of how these people were trusting me with their health and actually getting better.  That helped build my confidence and ease my anxiety.  I was cleaning wounds, checking glucose levels, using an otoscope to check for ear infections, working with infants and kids with disabilities.  I'm not saying my treatments have been perfect, but I can say that I am providing attentive and thoughtful healthcare and truly connecting with my patients.   
After the first week or so, and settling into a simple routine here, I realized that I was the happiest and most peaceful that I had been in years.  I wake up early, go for my walk to the look-out point above the river, do some qi gong and yoga.  I get back home to eat a simple breakfast that Auntie makes in her outdoor kitchen, and head off to clinic.  I work from 8:30 am to 4:30 pm, with a quick lunch of Dahl Baht.  When I get off work, I take a quick rinse off in the outdoor shower/ spicket and finish my charting while waiting for Auntie to provide us with another plate of spicy Dahl Bhat for dinner.  I go to bed super early and wake up in the middle of the night to go pee in the outdoor squat toilet.  Six door latches later and I usually have a hard time getting back to bed.  Thats when I ruminate over my patients.  Then I get up and start all over again.  
I am certain now that I am happiest with a simple life and a regular schedule.  Back home in Brooklyn NY, things have not been so simple.  The last 4 years were dedicated to intensely studying Chinese medicine while working, barely socializing and commuting around a hectic city.  I did not realize just how much my irregular busy schedule was wearing me down.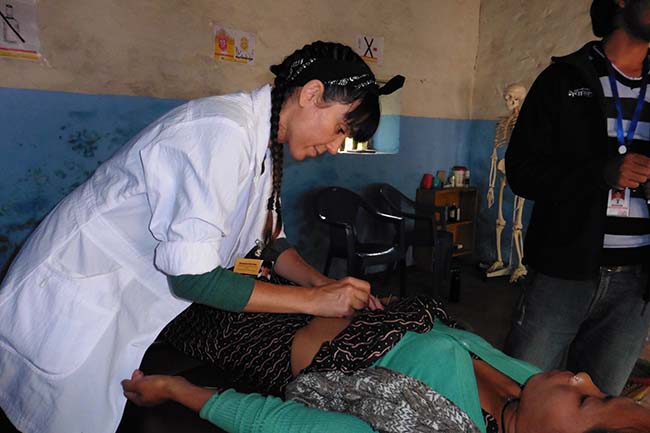 Aside from my clinic experience, I have also had other pretty epic adventures.  I've visited many holy sites for both Hindus and Buddhists.  But that is not limited to the myriad of temples and stuppas that are everywhere.  The land here is thick with spiritual history and energetic density.  While trekking in Langtang National Park, I climbed the highest I've ever climbed (almost 16,000 feet) and visited lakes and rivers that were created by Shiva himself.  I hitched a ride on the crowded rooftop of the local bus up to Kogate to celebrate Tihar, the Hindu Festival of Lights.  I was blown away by the density of spirit in this remote mystical shire that has the most spectacular views I have ever seen.  (Kogate has since become my happy place.)  Between all the gods and goddesses, witches and shamans, you feel a spiritual energy here like nowhere else I've felt.  
There's been a lot of clarity for me here in Nepal.  Following a simple routine in this special place has helped reconnect me with my true self again, a calm and content being.  I chose to come to Nepal without knowing hardly anything about where I was actually going.  Somehow I just felt it was where I needed to be.  And I was right.  What was supposed to be a stressful "third world" experience turned out to be one of the most peaceful and happiest moments in my life.  
In the last 3 days I have treated 64 patients, 55 of those are my regular patients.  Even though Im pretty exhausted by the end of the day, providing healthcare does not stress me out.  It's having deadlines and taking on too many tasks and responsibilities that disrupts my spirit.  Although I have seen the light again here, I need to take that light into everyday life, especially going back to NYC, the land of complexity and excess.  My intention is to set up a simple life, slowly build a community-inspired acupuncture practice, and be creative and healthy.  All I really need is healing, music and creativity.  I'm making a promise to myself to keep it simple, stick to a regular schedule and get into nature as often as possible to feel its peaceful energy and let it always remind me of who I really am. ---Susana Correia