We feel that we are providing extremely effective and cost efficient care in Nepal and facilitating an excellent training experience for our volunteer practitioners. In the interests of full transparency with our community of support we offer this accounting of our operations. If you have any questions about our funding or expenses, please contact us.
2010 was a pivotal year for Acupuncture Relief Project. We had thirteen volunteers serve at the Vajra Varahi clinic in Nepal who provided over 9,000 acupuncture treatments and medical consultations. These volunteers worked six days a week and accomplished a total of 395 treatment days of s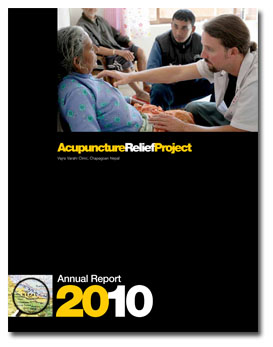 ervice. Their efforts produced notable successes in treating paralysis/stroke, chronic pain, gastrointestinal disorders, and breathing difficulties such as asthma and emphysema.
In 2010 we introduced the Third World Medicine Immersion Program, which is a continuing education program designed to improve practitioners' diagnostic skills and to equip them to safely perform in rural third world environments. Read more... Download our Annual Report and Financial Statements click here.