We feel that we are providing extremely effective and cost efficient care in Nepal and facilitating an excellent training experience for our volunteer practitioners. In the interests of full transparency with our community of support we offer this accounting of our operations. If you have any questions about our funding or expenses, please contact us.
In 2011 our Third World Medicine Immersion Program was a great success with twelve volunteers serving at the Vajra Varahi clinic. These volunteers worked six days a week not only providing care to patients but also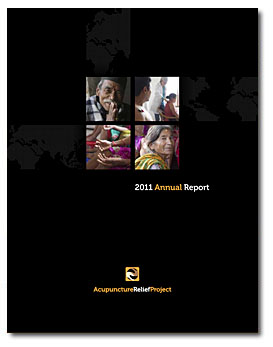 participating in over 40 hours of continuing education focusing on improving their skills in case evaluation, treatment planning and patient progression. Upon completion of their course, each practitioner presented a case study for peer review. These case studies help us analyze the efficacy of our clinic efforts and contribute to a body of evidence that supports our overall project model. We are now in the process of compiling these case studies to share with our extended Oriental Medicine community. For their participation in this course, volunteer practitioners received 40 Professional Development Activity (PDA) credits from the National Certification Commission of Acupuncture and Oriental Medicine (NCCAOM).
Acupuncture Relief Project also conducted a Patient Reported Outcome Measures (PROM) research study Read more... Download our Annual Report and Financial Statements click here.